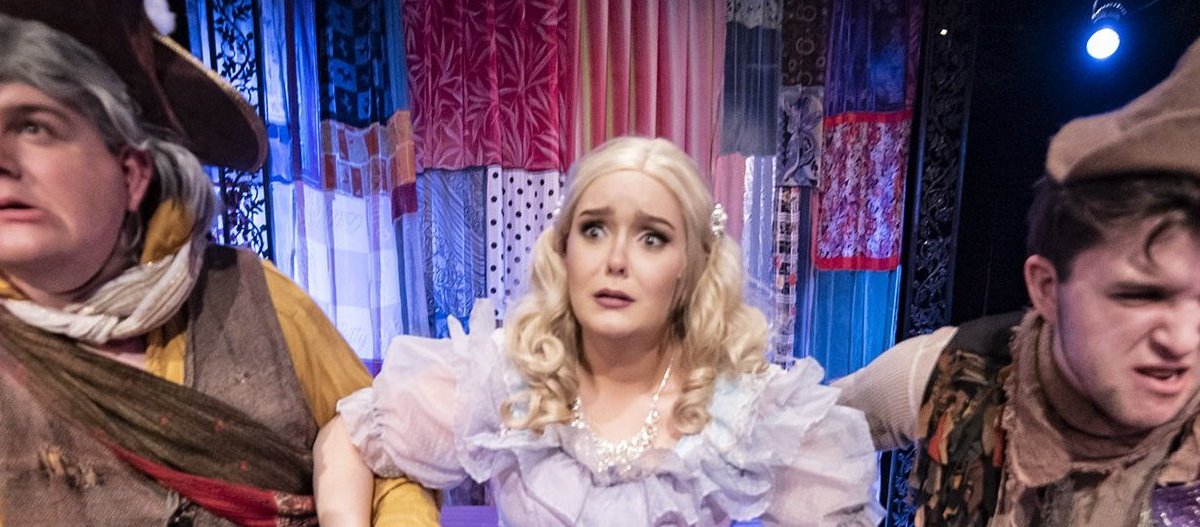 Musical Theatre
In the Musical Theatre program, students receive training in music, dance, vocal performance, and acting. Students also study the history of musical theatre, while also performing in an exciting production season, where most majors have significant performance experience by the end of their first year. The Musical Theatre program prepares students for a myriad of professional opportunities including performing with touring theatre companies, theme parks, cruise ships, and regional theatres.
Audition Requirements
For acceptance into the Musical Theater program students must schedule and complete a Company Audition. The audition will consist of 2 songs, 1 up-tempo and 1 ballad, from different eras (1900-1950 and 1950-today). As well, you will perform 1 monologue of your choice from any period. Additionally, you may submit a headshot and resume. Following the performance of the monologues you will engage in an interview with members of our faculty. The Audition concludes with a campus tour, tour of the theater spaces, and a class preview may be included.
Program Outcomes
Graduates from Southeastern's Musical Theatre program have gone on to work in national touring companies, theme parks, and regional theaters. Others have joined top graduate programs in musical theatre in pursuit of their Master of Fine Arts degree.
Reason #1
Develop skills in dance and physical movement
Reason #2
Develop vocal abilities
Reason #3
Opportunities to attend special guest workshops
Reason #4
Perform in multiple shows each season
Program: THEATRE
Major: Musical Theatre
Degree: Bachelor of Arts (B.A.)
Dept: Art. Communication and Theatre
School: Arts and Sciences
Major Code: 060
GENERAL EDUCATION (44 Semester Hours)
Communications (9 Hours)
English (ENG 1113 and ENG 1213)
Speech Communication (COMM 1233 or 2213)
Social and Behavioral Sciences (12 Hours)
Political Science (POSC 1513)
American History (HIST 1513 or 1523)
Social Science (ECON 2113, GEOG 2723, HIST 3513, or SOC 1113)
Mental and Physical Health (KIN 1113 or PSY 1113)
Science and Mathematics (14 Hours)
Biological Sciences (BIOL 1114 or 1404)
Physical Sciences (CHEM 1004, 1114, 1315; PHYS 1114, 2015; PSCI 1114, 1214, or 1414)
Mathematics (MATH 1303, 1513, 1543, 1613, 2013, 2113, 2143, 2215, or 2283)
Computer Proficiency Requirement (BIM 1513 or CIS 1003)
Humanities (9 Hours)
Humanities, Philosophy, and Lit (ENG 2313, 3893; HUM 2113, 2223, 2313; or PHIL 2113, 2223)
Fine Arts (ART 1003, 1103, 2103, 3013, 3083; MUS 1113, 1123, 3133; THTR 1143, 1183, 2183, or 3183)
Foreign Language (CHTW 1513; FREN 1113; GERM 1113; SPAN 1113, 1223; ASL 1113; NS 1213)
MAJOR REQUIREMENTS: Theatre (40 Semester Hours)
Core (18 semester hours)
THTR 1113 Introduction to Theatre
THTR 1133 Introduction to Technical Theatre
THTR 1213 Introduction to Acting
THTR 2163 Movement for the Theatre Artist
THTR 3523 History of Theatre to 1700
THTR 3623 History of Theatre: 1700 to Present
Musical Theatre (22 semester hours)
THTR 3013 Musical Theatre Performance I
THTR 3023 History of Musical Theatre
THTR 3043 Musical Theatre Audition
Thirteen upper level hours required and can be selected
from the following:
THTR 3033 Musical Theatre Performance II
THTR 3942 Acting Workshop Audition
THTR 4013 Musical Theatre Workshop
THTR 4232 Advanced Performance
THTR 4970 Special Studies
THTR 4980 Seminar (three hours)
NOTE: Students are required to demonstrate a vocal and
piano proficiency prior to graduation. Details on these
proficiencies are available from the Director of Theatre.