Aviation Visitation Day 2020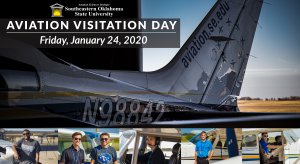 JANUARY 24, 2020
NOTE: Registration for Aviation Day 2020 is now full!
Professional Pilot Degree Qualifies for the R-ATP @ 1000 flight hours
Faculty and flight instructors are professional pilots
Destination 225° program partner with Southwest Airlines
Fleet of 19 Cessna training aircraft
Envoy Pipeline Program puts students on a path to employment
50+ years of training professional pilots
SPEND THE DAY WITH US!
Registration begins at 9:00 a.m. in the Student Union. Students will have the opportunity to tour campus, tour ASI facilities, see a flight simulator demonstration, and visit with aviation faculty, staff, and alumni. Lunch will be provided beginning at 11:30 a.m. in the Student Union.