2013 Native American Symposium
Native Ground: Protecting and Preserving History, Culture, and Customs
November 14-15, 2013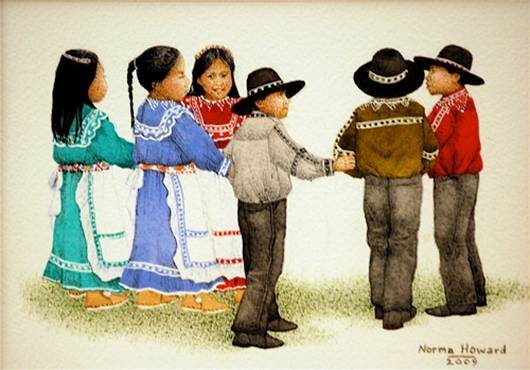 Thursday, November 14
1:00 pm – Magnolia Room
Karin Hicks —"Eho Kullo, Strong Woman"
1:30 pm – Magnolia Room
Jerry Bread — The University of Oklahoma Native American Debate Team,   'Council of Fire'
2:15 pm – Magnolia Room
Amy Gantt — Chickasaw Language and Culture: An Introduction to the Language and Culture of Chickasaw people.
2:45 pm – Magnolia Room
Jane Allen Farmer — Natchez Trace Parkway
3:30 pm – Social Game of Stickball will be played on campus.
4:30 pm – Hogan Collection Exhibit at the Visual and Performing Arts Center
Gleny Beach, Southeastern Oklahoma State University, "Native Traditions: Then and Now"
6:00 pm – Ballroom: Keynote Banquet
"Reconnecting with Native Ground: Promoting Heritage Preservation through Conservation Archaeology in the Chickasaw Homelands"
Brad R. Lieb, Chickasaw Nation Davison of Historic Preservation
7:30 pm – Ballroom
'It Wasn't Code to Us' — Dramatic production focusing on the Choctaw Code-Talkers of World War I.
8:15 – Ballroom
 Choctaw Social Dancing
Friday, November 15 
9 am – Native Representations – Student Union Auditorium 213 
 Melissa Biggs, University of Texas at Austin, and John Bodinger de Uriarte, Susquehanna University, "Gambling on History: Shaping Narratives in Native Public Spaces"
Rick Lybeck, University of Minnesota – Twin Cities, "Where Truth Telling and White Public Pedagogy Collide: Educative Barriers to Justice in Dakota Homeland"
9 am – Native Performance and Film – Student Union 323
Alison Fields, University of Oklahoma, "Circuits of Spectacle: The Miller Brothers' Ranch 101 Real Wild West Show"
Mark B. Spencer, Southeastern Oklahoma State University, "The Fast Runner: Epic Filmmaking"
9 am – Native Politics – Student Union 303
Lindsey Churchill, University of Central Oklahoma, "'They do not exist in Uruguay:' Representations of Indigenous Peoples in the Uruguayan Left, 1960s-80s"
Bill Kingfisher, Jr., "Felix Cohen and the Spanish Model Reconsidered"
10 am – The Native Museum – Student Union Auditorium 213
Caroline Laurent, University of Minnesota-Duluth & Sorbonne University, Paris, "Can Indian Museums Revive the Culture of Tribes: The Case of the Mille Lacs` Indian Museum"
10 am – Native Memories – Student Union 323
Mattea Sanders, American University, "Representation of the Eastern Band of the Cherokee Indians"
Noel Edward Smyth,  University of California, Santa Cruz, "Contested Histories: A History of Natchez Survival Amidst Narratives of Natchez  Disappearance"
10 am – Native Politics – Student Union 303
Gretchen Eick, Friends University, "Lakota Writing on US Indian Policy in the Early 20th Century"
Neal M. Hampton, University of Central Oklahoma, "'We Have to Think of the Indian People Themselves:' Oklahoma Indians and the Congresses of October 1934" 
11 am – Native Sovereignties – Student Union Auditorium 213 
Claudia Little Axe, Hannah Berryman, and Linda Sue Warner, Northeastern  Oklahoma A&M College, "Sacred Places: Indigenous Perspective of Education and Place"
 Brian K. Hudson, University of Oklahoma, "First Beings as Sovereign Species"
11 am – Native History – Student Union 323
Richard Mize, Phillips Theological Seminary, "Saving White Eyes"
Stanley Rice, Southeastern Oklahoma State University, "Nanyehi: War and Peace in Cherokee History" 
11 am – Native Literature I – Student Union 303
Yonka K. Krasteva, Butler Community College, "Transcultural Crossings: Spirituality, War and Selfhood in Linda Hogan's 'People of the Whale'"
Steven B. Sexton, University of Oklahoma, "Transnationalism in LeeAnne Howe's 'Evidence of Red'"
12 pm – Lunch in the Loft
1 pm – Native Art – Student Union Auditorium 213
Protection, Preservation, and Proliferation of Native American History, Culture, and Customs through Contemporary Native Art
Jean Merz-Edwards, Heather Ahtone, Linda Lomahaftewa, America  Meredith, and John Torres-Nez
1 pm – Visions of Native Americans – Student Union 323, East Central University Panel
Jennifer McMahon, "Ghost Dance: Visions of Death in Contemporary Native American Cinema"
Steve Csaki, "Process Ontology in Early American Pragmatism, Buddhism, and Native American Thought"
Rebecca Nicholson-Weir, "Structures of Mystery and Memory in Contemporary  Native American Literature"
1 pm – Native Literature II – Student Union 303
Debashree Dattaray, Jadavpur University, India, "An Act of Resistance: A Comparative Study of Indigenous Women's Narratives"
Richard Moon, Lanier High School, San Antonio, "Verbal Tales to Postmodern Works: Native American Literature Explores Traditions and Customs"
2:30 pm – The Choctaw and Chickasaw – Student Union Auditorium 213
Kennith H. York, "Choctaw Nationalism"
Phillip Carroll Morgan, Chickasaw Press, "The Best of Treasure Hunts: Tribally Specific Research"
Laura Clark, East Central University, "Chikasha on the Trace: Voices of the Homelands"    
2:30 pm – Native Music – Student Union 323
Indigenous Songwork: Native Music as Rhetorical Tapestry, Northeastern State University Panel
Kimberli Lee, "Pura Fe: Singing Native Women's Realities"
Jaquetta Shade, "Indigepunk as Pastiche"
Christina Cedillo, "Musical Hybrids or Living Traditions?: Contesting the Myth of Cultural Extinction"
2:30 pm – Native Government Documents – Native American Room, Henry Bennett Library
Brandon Burnette, Southeastern Oklahoma State University, "Historic Indian Publications by the United States Federal Government"
4:00 pm – Poetry and Short Story Readings – Student Union Auditorium
Ron Wallace, Southeastern Oklahoma State University, "Of Horses and Hawks and the World in Between"
Jeffrey DeLotto, Texas Wesleyan University, "Following the Water: A Two Hawks  Story"