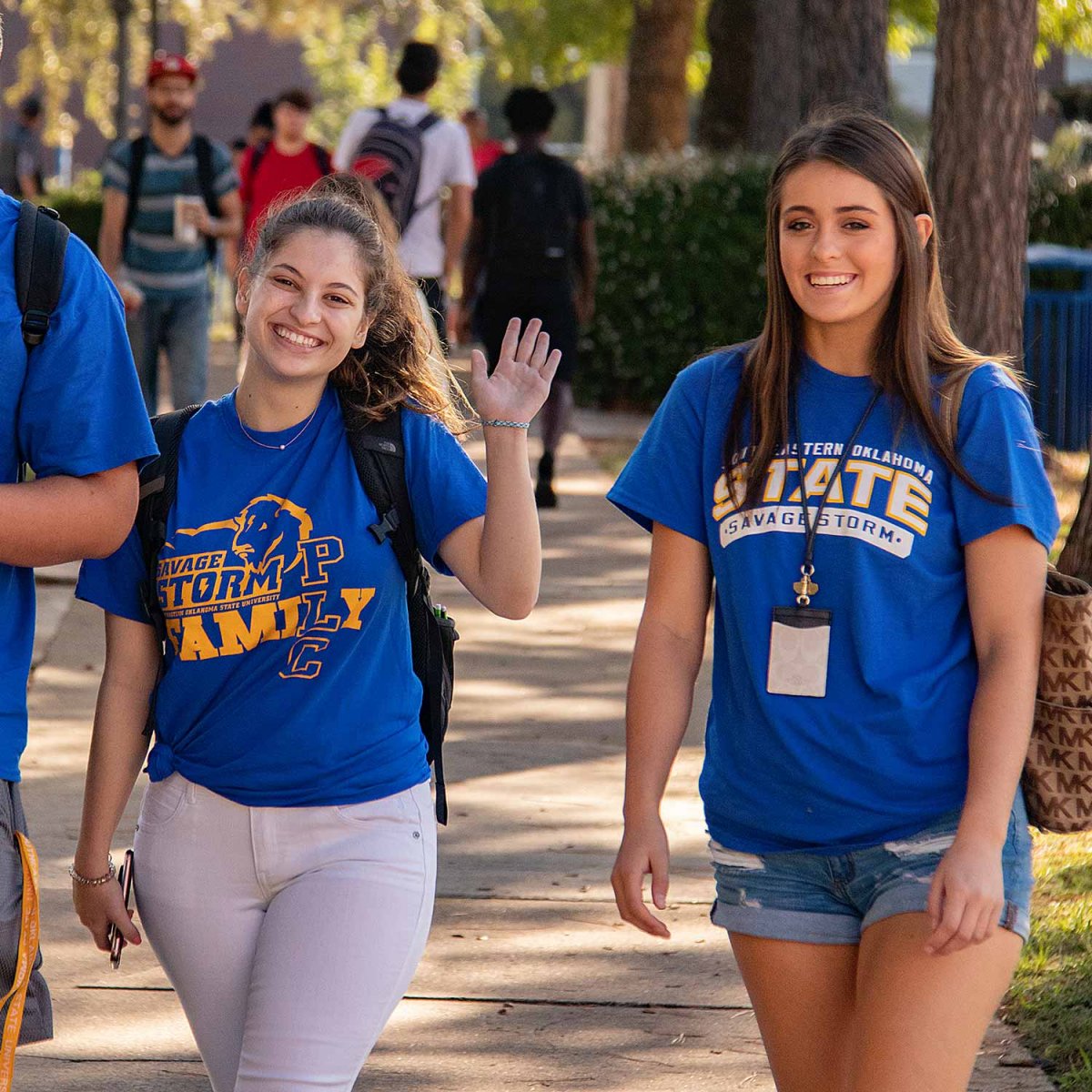 Visit Southeastern
Campus visits are the best way to get an in-depth feel for life at Southeastern. The best way to experience and learn about what SE has to offer is to visit our campus in beautiful Durant, Oklahoma. The campus tour provides a great opportunity to meet current SE students and staff, tour our Residence Halls, and get answers to your questions about living and learning at Southeastern.
Tours are available:
Monday: 10 am and 2 pm
Tuesday: 10 am
Wednesday: 10 am and 2 pm
Thursday: 10 am
Friday: 10 am and 2 pm
Campus tours are not available on September 2 (Labor Day), October 24 (Texoma College Fair), November 6 (SE Live), November 25-December 1 (Thanksgiving Break), December 23-January 1 (Christmas Break).
If you are a teacher, counselor, or group sponsor and would like to schedule a group tour, please contact the Office of Admissions and Recruitment at 580-745-2060 or recruitment@se.edu to check availability.
---
Want to experience campus on a football game day or is Saturday the best time for you to explore Southeastern? Sign up for a student-led one-hour tour to hear about our degrees, student organizations, and admission requirements. The tour includes a walk around campus, the Student Union, and residence halls. Stay around after the tour and enjoy Tailgate Alley prior to the game. You will also receive game tickets (limit 3 per student).
Schedule a Game Day Campus Tour
---
Southeastern routinely offers special events to connect future students with our faculty, staff, current students, and programs through unique experience days. Reservations for these great moments are appreciated so we can prepare for your visit. Upcoming special events include:
Texoma College Fair – Thursday, October 24, 2019
Colleges and universities from across the region and neighboring states join together for a one-day event. Learn more and register to attend here.
Texoma College Fair Registration
---
SE Live! – Wednesday, November 6, 2019
Southeastern's most exciting recruitment open house! Fun and entertaining sessions introduce campus life and academics. Learn more and register to attend here.
---
Transfer Day – Tuesday, October 8, 2019
If you are considering transferring to Southeastern and have either applied, been accepted, or would just like to visit our campus, this is the event for you. You will have the opportunity to take a campus tour, hear about scholarship opportunities, have your previous college transcripts evaluated, and visit with professors in your degree field. Visit anytime during the hours of 9:00 AM and 3:00 PM. Register today for this informative event.