Occupational Safety & Health Career Fair
April 17, 2020, 9 am-3 pm
The Southeastern Career Management Center and the Department of Occupational Safety and Health will host a career fair on Friday, April 17th, 2020 from 9:00 am – 3:00 pm in the Hallie McKinney Ballroom [1408 North 5th Ave. Durant, OK 74701] on the campus of Southeastern.
Registration will include:
1 table
2 chairs
Parking Pass
Lunch
Call the Career Management Center at 580-745-2270 or email careers@se.edu if you have any additional questions.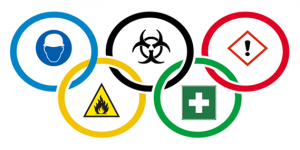 This event is in partnership with the 2020 Safety Olympics, an annual event for the top Occupational Safety & Health students that tests their knowledge and skills of the industry by placing them in multiple safety events over a two-day period. For more information on this event, visit se.edu/safetyolympics.
If you need accommodations due to a disability, please call the Office of Student Affairs at 580-745-2368. Accommodations cannot be guaranteed without advanced adequate notice.
For more information, contact Stephanie Davison at 580-745-2267 or sdavison@se.edu.