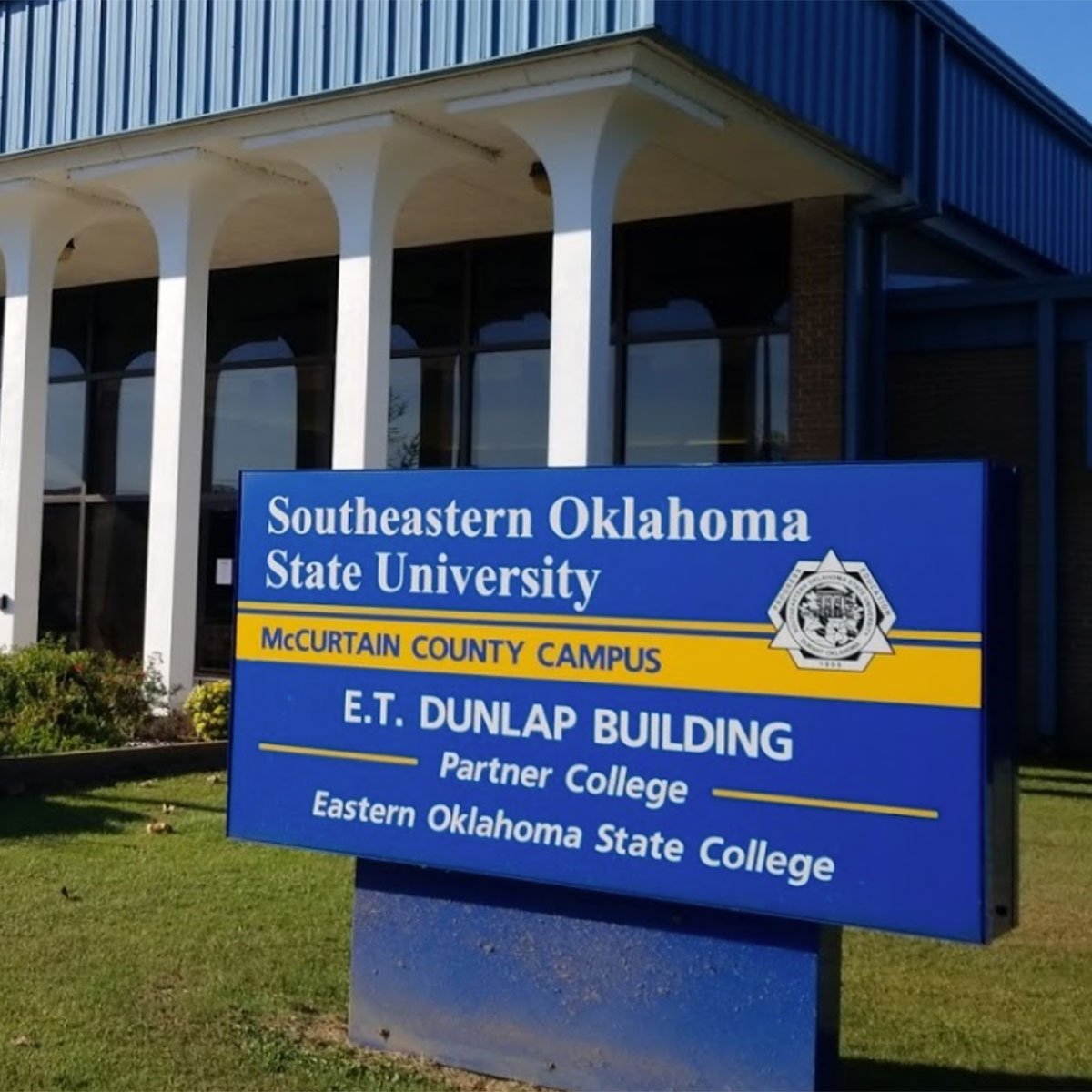 COVID-19 Information
Brief summary of impact of COVID-19 at SE McCurtain County Campus
EOSC Student Illness Reporting Form
SE Student Illness Reporting Form
The McCurtain County Campus buildings are open by appointment only in an effort to prevent the spread of COVID-19 in our community. For those planning on taking face-to-face classes at SEMCC, classes will start out online via Zoom and will meet on the same day/time as what is listed on the schedule. The core nursing program courses are the only exception; they are going to meet in person.
Students are encouraged to frequently check their student email for communication from the colleges and their instructors. We understand that there will be challenges for both students and faculty during this time and SE McCurtain County Campus faculty and staff are dedicated to helping you.
Formal information from each institution is included in the hyperlinks.
Looking for Assistance?
Call our Zoom911 help line for assistance at 580-376-5299
SE MCC Campus Administration
Kendra Gross
email: kgross@se.edu
phone: 580-376-5206
Eastern Oklahoma State College
Julie Jefferson
email: jjefferson2@eosc.edu
phone: 580-376-5223
SE MCC Campus Police and Safety
Jason Stewart
email: jstewart@se.edu
phone: 580-376-5227
SE MCC General Information/Questions
Sherry Holeman
email: sholeman@se.edu
phone: 580-376-5220
SE MCC Admissions and Financial Aid
Claudia Bacon-Tonihka
email: ctonihka@se.edu
phone: 580-376-5231
SE MCC TRiO Programs
Quitta Crutchfield – Educational Opportunity Center Specialist
email: zcrutchfield@se.edu
phone: 580-376-5238
Cynthia Love – Talent Search
email: clove@se.edu
phone: 580-376-5247
Terence Butler – Upward Bound
email: tbutler@se.edu
phone: 580-376-5228
SE MCC Technology Support
Richard Crow
email: rcrow@se.edu
phone: 580-376-5205
Barbara Burton (Zoom)
email: bburton@se.edu
phone: 580-376-5222
Ben Little
email: blittle@se.edu
phone: 580-376-5224
SE MCC Vendors and Purchasing
Lynette O'Dell
email: lodell@se.edu
phone: 580-376-5221
SE MCC Library Services
Jaime Whittington
email: jwhittington@se.edu
phone: 580-376-5212
EOSC Faculty @ SEMCC

Armstrong, Stephanie
email: sarmstrong2@eosc.edu
Arnold, Jimmy
email: jarnold@eosc.edu
Bryant, Cindy
email: cbryant581@eosc.edu
Byrd, Janice
email: jbyrd@eosc.edu
Crain, Kia (Pratt)
email: kpratt@eosc.edu
Clark, Charlie
email: caclark@se.edu
Fields, Jamie
email: jfields@eosc.edu
phone: 580-376-5250
McAllister, Chris
email: cmcallister@eosc.edu
phone: 580-376-5239
Moore, Sherry
email: smoore@eosc.edu
Scales, Jamie
email: jscales@eosc.edu
Tollett, Kim
email: ktollett@eosc.edu
Wall, Gayla
email: gwall@eosc.edu
White, Carolyn
email: cwhite243@eosc.edu
SE Faculty @ SEMCC

Crow, Tammy
email: tcrow@se.edu
phone: 580-376-5208
Gamble, Kelly
email: kgamble@se.edu
phone: 580-376-5213
McClanahan, Barbara
email: bmcclanahan@se.edu
phone: 580-376-5257
Maintenance/Custodial

McCulloch, Elmer
email: emcculloch@se.edu
phone: 580-376-5217
Wells, Joyce
email: jwells@se.edu