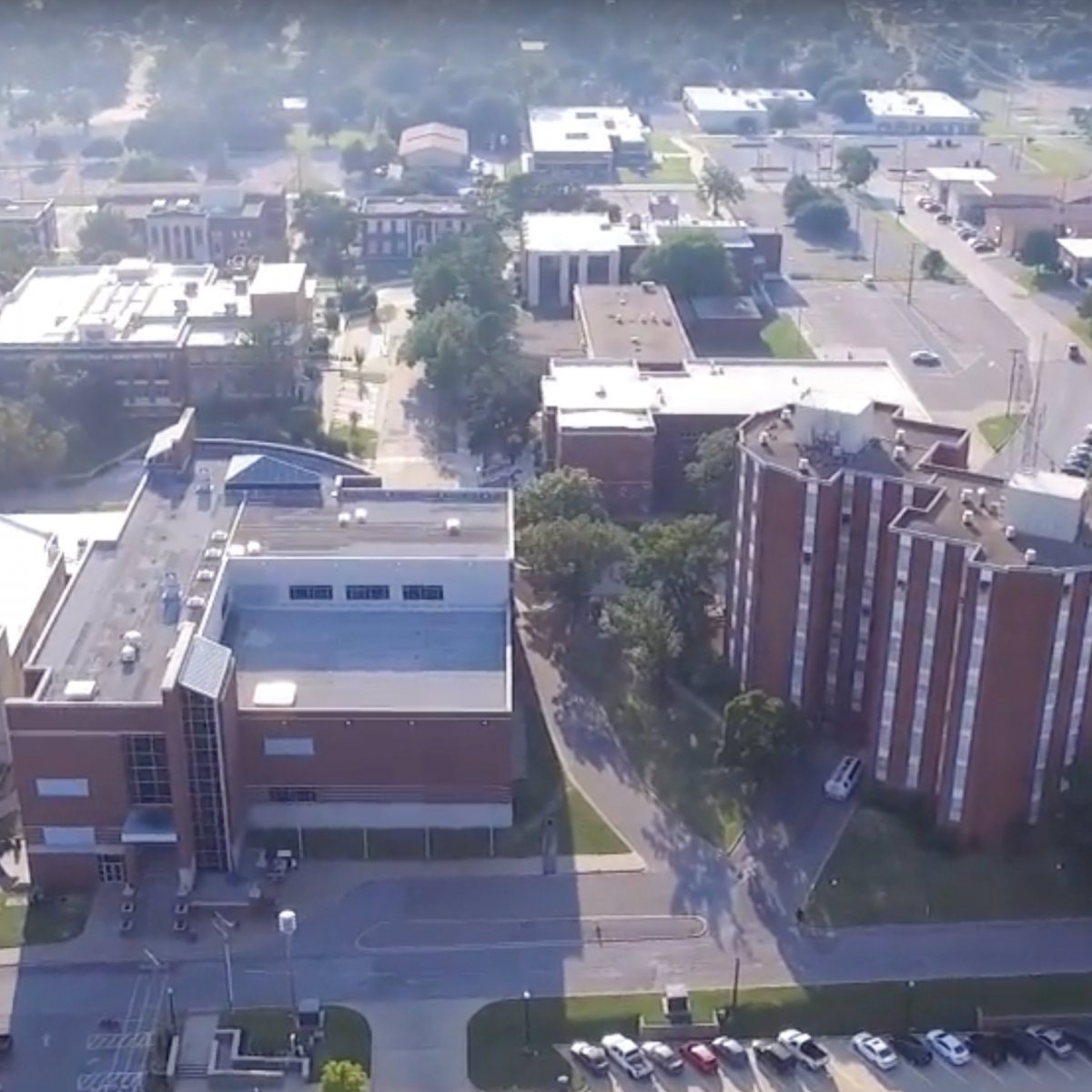 University Marketing
University Marketing is the central branding and promotions department for Southeastern Oklahoma State University. We focus on university-wide goals and initiatives — from supporting enrollment goals to promoting successes and lots of objectives in between. It's our primary job to promote and protect the SE brand and image, and we do this by working with each department and office. If you need help promoting your department, your team, or telling a great Southeastern success story, we are here to help you.
University Marketing works to:
Advance and protect SE's institutional identity and reputation through a comprehensive marketing strategy
Reinforce and grow SE's brand in graphics, images and words and by overseeing college logos and image
Support SE's student recruitment, retention and graduation goals and strengthen SE's relevance and value to key audiences, including alumni, donors, faculty and staff
Create marketing and promotional materials and advertisements
Provide creative and graphic support through art, photography and videography
Maintain content and design of the college website.
What's your goal? We're here to help you – and Southeastern Oklahoma State University – succeed. Before you begin your project, check out SE's Brand and Style Guide … or let us lend a hand.
Our Services
The marketing team produces and/or approves all publications and materials created for external audiences and use. These visuals, messages and items are carefully crafted with university branding guidelines in mind. Our team also manages the new website content, and supports the social media platforms connected to student recruitment and promotion. Advertisements for the institution are also created to deliver a unified image and message. To get started on your project, submit a Creative Services Request Form.
University Marketing plays a key role in how we visually tell the story to our various target audiences and the constituents our projects serve. This area provides graphic design and art direction services for projects to connect our audience research with typography, photography, and visual research to provide high quality and high impact design work. Whether the format is print, digital or video, our team of designers uses contemporary design strategies to make sure that the final product is visually engaging, competitive in the higher education industry, aligned with additional SE products and branding initiatives, and communicates effectively to the audiences.
The creative services team is fully engaged to create all products including advertising, recruitment publications, promotional items, and electronic communications.
University Marketing oversees the content of the Southeastern Oklahoma State University website, and coordinates major software and hardware changes and modifications with the Information Technology team at Southeastern. With limited exceptions, University Marketing will be responsible for updates to departmental pages. Page revisions and update requests will be addressed through the Web Feedback Form.
Graphics needed to support departments and their email or other digital communication with outside audiences can be supplied by submitting a Creative Services Request Form to University Marketing. Requests should be submitted at least three weeks in advance.
All official recruiting materials for prospective students and promotional materials for programs and departments are handled by University Marketing. To request help on your project, submit a Creative Services Work Request. To get the best results, submit your request as early as possible, but at least three weeks in advance.
Getting your message in the mail is easy with our mailing partner. Planning to mail more than 200 pieces? We will coordinate your project. Departments will need to submit the mailing list in excel format.
An approved university logo should appear in all university publications, whether print or electronic. It may also be used as identification on promotional items. Additionally, there are legal disclosures and statements that must appear. Compliance with these rules is essential.
The logo must appear on all official printed documents (including, but not limited to, letterhead, email letterhead, websites, publications and reports, catalogs, handbooks, etc.) and on off-campus communications and advertisements.
The following disclosure must be included in a prominent location on university publications including, but not limited to, applications for admission, catalogs, websites, recruitment materials, and course syllabi. A prominent position would include: the inside front cover or the back outside cover of a booklet; the top or bottom margin of the first page of an unbound document; or the margins of a web-page. In the case of a web page, the policy title can be used alone as a button that would bring up the full statement.
University Non-Discrimination Statement
Southeastern Oklahoma State University, in compliance with all federal and state laws and regulations, does not discriminate on the basis of race, color, religion, national origin, sex, age, disability, sexual orientation, gender identity, or status as a veteran in any of its policies, practices, procedures, or programs. This includes, but is not limited to: admissions, employment, financial aid, and educational services. Inquiries regarding non-discrimination and equity policies may be directed to: Michael Davis, Director of Compliance and Safety & Title IX Coordinator, 580.745.3090, or mdavis@se.edu.
Abridged version for shorter publications where space is limited:
SE is an affirmative action/equal opportunity institution and will not discriminate in any employment practice, education program, or educational activity on the basis of race, color, religion, national origin, sex, age, disability, sexual orientation, gender identity or veteran status.  OR
Southeastern Oklahoma State University is an affirmative action/equal opportunity institution.
Stationery, memo forms, fax cover sheets, message pads, business cards, envelopes, and the like are available from SE Printing Services or call 580.745.2660.
University Marketing can create artwork for display materials that showcase Southeastern and promotional items that keep the university visible. Careful consideration must be given to the University's licensing agreement with Learfield Licensing Partners.
Campus departments and offices can start projects by submitting a Creative Services Request with important details such as the item number, vendor, account number/PO number. An approved PO must be obtained prior to ordering materials.
Campus organizations can use the Interlocking SE, SOSU, the Southeastern Wordmark, the mascot Bolt and/or the Bolt logo, but not Oval SE.
If being created to support a student event (example: Spring Fest) the design doesn't require the specific words Southeastern Oklahoma State. (Marketing recommends using the Interlocking SE.)
If being created to represent a student organization/club (example: PLC, True Blue, SGA), can use interlocking SE but requires Southeastern Oklahoma State somewhere on the shirt.
Base clothing color should be white, royal blue, yellow gold or gray.
Ink colors can vary (see approved color palettes) but should represent the university.
The goal of these guidelines is to support the overall brand identity of SE. Projects submitted for approval will be discussed on an individual basis. All designs must be pre-approved through University Marketing prior to placing the order.
Submit a T-shirt and Apparel Approval Request form to marketing@se.edu
[insert preferred method of organization to submit their design to UM… form will need to have the organization/sponsor, vendor name, jpg of the art they want to use, purpose/use – email will go to]
Campus organizations have a unique opportunity to support Southeastern's branding efforts through the consistent use of approved colors and use of logos. Understandably, there is a desire for each organization to create distinctive art that represents their goals, events or project. Balancing the university branding guidelines and allowing for individuality is possible with communication and effort. Any organization that receives University funding is required to adhere to these guidelines and receive University Marketing approval prior to purchasing the garment. Using approved university vendors is also required.
Southeastern has contracted with CLC to help manage the licensing program. CLC acts as an intermediary for the university, enabling it to work directly with manufacturers and retailers. This ensures that decisions can be made promptly and that manufacturers can become licensed with the university in a timely manner.
Why is a consistent Southeastern visual identity important?
Southeastern's unique personality is captured in our branding and image. Branding, by definition, is a collection of colors, words, symbols, ideas and emotions that we want people to experience when they see or think about Southeastern Oklahoma State University. It is this 'experience' that sets us apart from other higher education institutions. Branding is a university-wide responsibility, and we should all work together to maintain and protect the SE brand. It is important to include the University Marketing team from the beginning of your marketing, advertising, printing or promotional project. Our approval is required on all Southeastern-branded purchases and print jobs.
This collection of brand identity elements includes, but is not limited to, the university name, logos, colors, elements of design, language, specific types of photography and videography, all of which are used for internal and external marketing materials, in advertisements, on the university's official website and social media channels, in official communications, and additional elements outlined in the Style Guide. It is designed to ensure consistent and appropriate use of the university's visual identity. Consistency is the number one factor for developing a successful brand identity.
Marketing Related Resources
Contact Us
Anna Hicks
Director of Marketing
580.745.2842
ahicks@se.edu