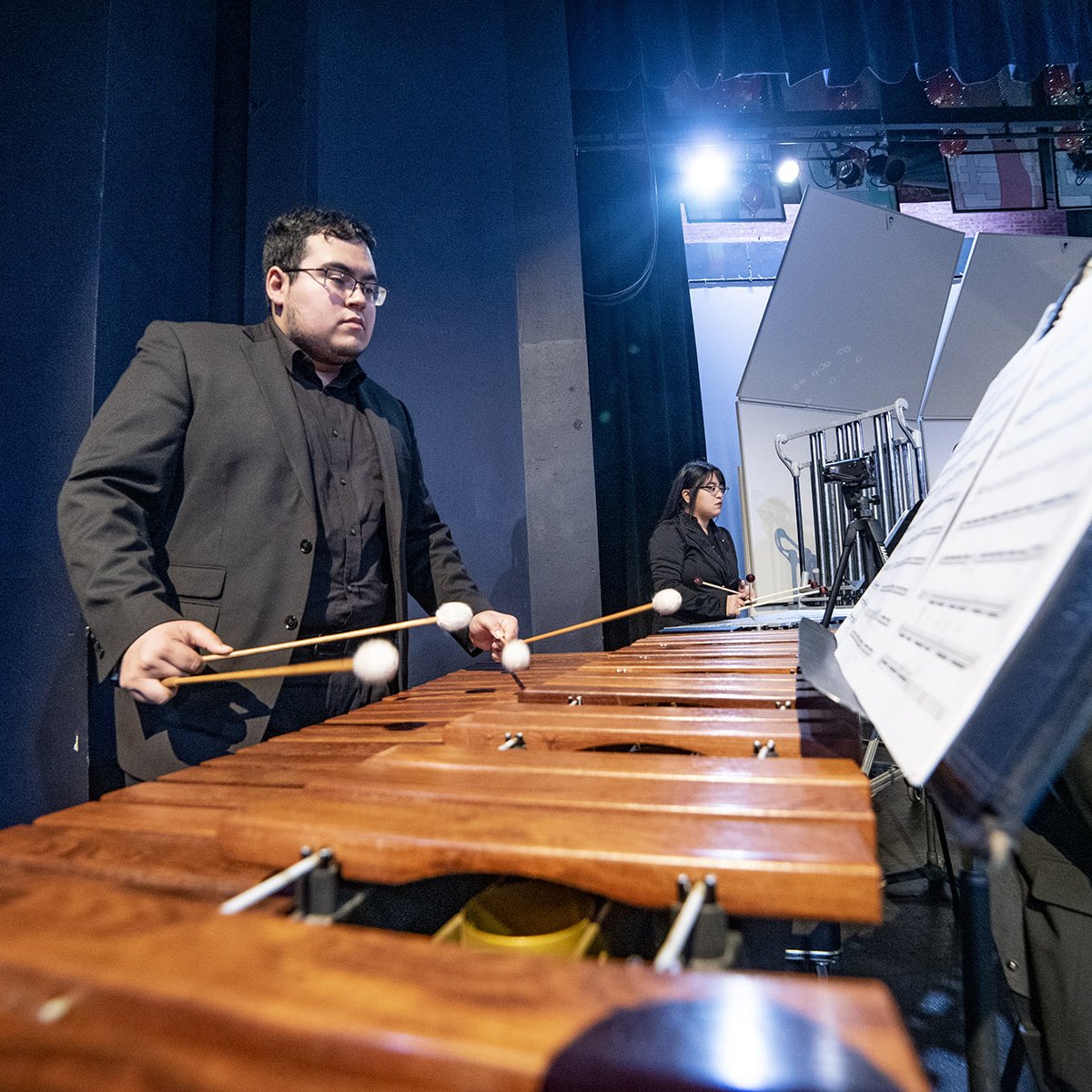 Music Performance
The Bachelor of Music in Performance Degree (Instrumental or Vocal) is designed for students who seek professional careers as performers and who seeks preparation for advanced study in music. The Bachelor of Music (B.M.) degree with an emphasis in performance is a reflection of the highest level of performance ability which will be recognized by graduate schools and professional organizations.
Program Outcomes
Bachelor of Music in Performance candidates have entered into graduate programs across the country including University of North Texas, University of Oklahoma, University of North Carolina-Greensboro, University of Tennessee-Knoxville, Cleveland Institute of Music, and others.
Reason #1
Connect with faculty who will nurture and challenge your skill set
Reason #2
Access to one-on-one weekly applied lesson and studio class experiences
Reason #3
Opportunity to participate in a variety of performance groups
Reason #4
Experience guest and faculty recitals and masterclasses
Program: MUSIC PERFORMANCE
Major/Minor: Music Performance
Degree: Bachelor of Music (B.M.)
Dept: Music
School: Arts and Sciences
GENERAL EDUCATION (44 semester hours)
Communications (9 Hours)
English (ENG 1113 and ENG 1213)
Speech Communication (COMM 1233 or 2213)
Social and Behavioral Sciences (12 Hours)
Political Science (POSC 1513)
American History (HIST 1513 or 1523)
Social Science (ECON 2113, GEOG 2723, HIST 3513, or SOC 1113)
Mental and Physical Health (KIN 1113 or PSY 1113)
Science and Mathematics (14 Hours)
Biological Sciences (BIOL 1114 or 1404)
Physical Sciences (CHEM 1004, 1114, 1315; PHYS 1114, 2015; PSCI 1114, 1214, or 1414)
Mathematics (MATH 1303, 1513, 1543, 1613, 2013, 2113, 2143, 2215, or 2283)
Computer Proficiency Requirement (BIM 1513 or CIS 1003)
Humanities (9 Hours)
Humanities, Philosophy, and Lit (ENG 2313, 3893; HUM 2113, 2223, 2313; or PHIL 2113, 2223)
Fine Arts (ART 1003, 1103, 2103, 3013, 3083; MUS 1113, 1123, 3133; THTR 1143, 1183, 2183, or 3183)
Foreign Language (CHTW 1513; FREN 1113; GERM 1113; SPAN 1113, 1223; ASL 1113; NS 1213)
Major-Minor: Core plus Option A or B (81-82 semester hours)
Core Courses: (56 hours)
Music Theory and Literature
MUS 1101 Music Theory and Literature I: Aural Lab
MUS 1203 Music Theory and Literature I: Introduction to Music Study
MUS 1231 Music Theory and Literature II: Aural Lab
MUS 1243 Music Theory and Literature II: Elementary Writing and Analysis
MUS 2201 Music Theory and Literature III: Aural Lab
MUS 2213 Music Theory and Literature III: Intermediate Writing and Analysis
MUS 2231 Music Theory and Literature IV: Aural Lab
MUS 2243 Music Theory and Literature IV: Advanced Writing and Analysis
MUS 3213 Music Theory and Literature V: Contrapuntal Writing and Analysis
MUS 3243 Music Theory and Literature VI: Contemporary Writing and Analysis
History of Music
MUS 3012 History of Western Music I: Medieval and Renaissance
MUS 3022 History of Western Music II: Baroque and Classical
MUS 3032 History of Western Music III: Romantic and Contemporary
Conducting (two hours selected from)
MUS 3471 Principles of Conducting
MUS 3481 Instrumental Conducting
MUS 3491 Choral Conducting
Performance
Applied Music:
Eight lower level and Twelve upper level hours of Major Instrument or Voice (2510, 4510)
For Instrumental Performance option – Two hours of solo literature and Two hours of pedagogy
For Vocal Performance option -(MUS 3162 Vocal Literature and MUS 3362 Vocal Pedagogy)
Two hours of directed reading in Music History
A. Instrumental Performance (25 hours)
Five hours of Piano
Four hours of Instrumental Chamber Music Ensembles
Eight semesters of major ensemble for a minimum of 8 hours of credit *
MUS 3133 Introduction to World Music
Two hours of Recital Performance (MUS 4241)
MUS 3383 Music Technology and Integration
B. Voice Performance (26 hours)
Three hours in foreign language
(Note: A total of six hours of foreign language are required, three of which come from guided General Education requirements)
Six hours in Piano (MUS 2341, 2441, 2541, 2641, 3441, 3541)
MUS 2471 Lyric Diction I
MUS 2481 Lyric Diction II
MUS 3592 Advanced Lyric Diction
Two hours Recital Performance (MUS 4241)
MUS 4410 Vocal Ensemble (Opera Theatre – 3 hours)
Eight semesters of major ensemble for a minimum of 8 hours of credit *
Required Program Support Courses:
ORIE 1002 College Success (for Music majors)
Recital Attendance
MUS 1400 Recital Attendance (must be completed eight times successfully)
*Students must enroll in at least one major ensemble per semester until degree requirements are met. Vocal major ensembles include Southeastern Chorale and University Singers (if placed into this ensemble by audition).
Instrumental major ensembles include Spirit of Southeastern Marching Band, Symphonic Winds, and Concert Band (if placed into this ensemble by audition).
Candidates for the Bachelor of Music with an emphasis in Applied Music will present full recitals during both Junior and Senior years of study and must enroll in MUS 4241 each time.
Bachelor of Music degree candidates must make a grade of "C" or higher in all music courses.