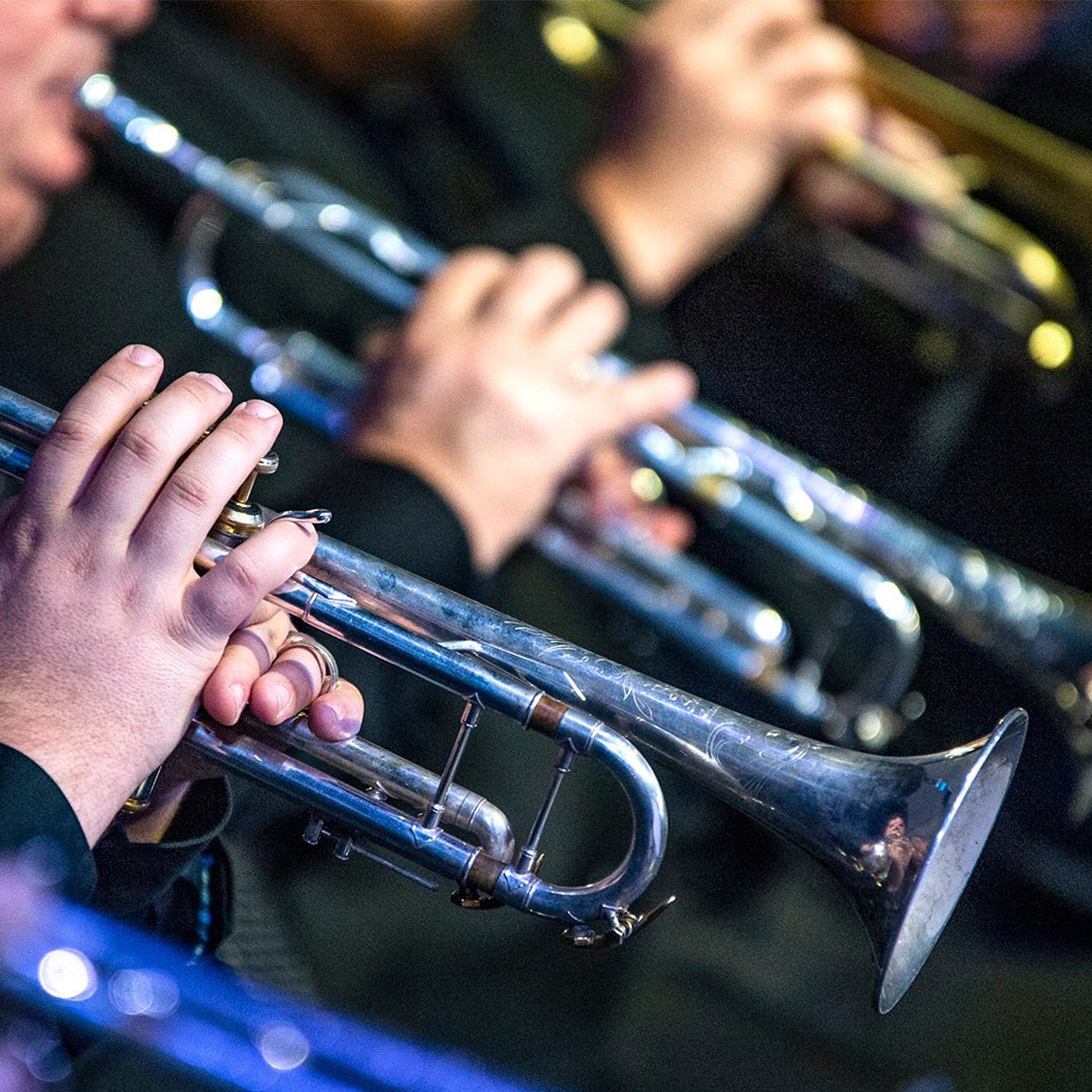 Performing Ensembles
Whether you are an instrumentalist, vocalist, or pianist, we know that you will find a place here in The Department of Music at Southeastern. Our competitive major ensembles bring challenging repertoire to the forefront in the Texoma Region and offer students both a rigorous and positive musical experience during their college careers.
Instrumental Ensembles
A long-standing tradition of excellence, the "Spirit of Southeastern" Marching Band is the largest and  most recognized instrumental ensemble at Southeastern Oklahoma State University. Operating throughout the fall semester, this ensemble presents innovative and exciting programming on and off the field at home football games, regional exhibitions, parades, and spirit and recruitment events. Comprising separate wind, percussion and auxiliary units, this ensemble is open to students of any major pending an entrance audition for the Director of Bands.
The Symphonic Wind Ensemble is the premier performing concert ensemble of the Instrumental Division of the Department of Music. The ensemble performs repertoire of the highest quality from various style and time periods and the have the opportunity to collaborate with performers, composers, and conductors of national repute. This group meets year-round and performs several on-campus concerts annually. Placement in the Symphonic Wind Ensemble is dependent upon competitive audition at the beginning of the year.
The SE Jazz Ensemble is a "big band" style jazz ensemble open by competitive audition to all University students. The Jazz Ensemble provides entertainment for a variety of University and community events in the Texoma area, including balls and receptions, as well as performing extensively in the public schools of Oklahoma. They also perform regular concerts on campus and host the SE Jazz Festival each spring, performing with international jazz artists such as Ed Shaughness, Vince Di-Martino, David Steinmeyer, and Chris Vadal.
The internationally recognized Jazz Ensemble, which completed a cultural exchange tour of the People's Republic of China in spring 2001, has made tours to Walt Disney World and the Greeley Jazz Festival, and makes a major tour each spring. The ensemble is dedicated to performing all styles of jazz, from the early "swing" era through Count Besie and today's modern jazz sounds. For more information, contact Dr. Tristan Eggener
The Percussion Ensemble at Southeastern performs for a wide variety of functions and events including university and community concerts, performances in Texoma Region schools, and state conventions. The ensemble is comprised of 10 – 15 musicians and performs literature from the standard repertoire written specifically for percussion as well as Arrangements of Classical literature and contemporary transcriptions of popular tunes. In addition, the percussion ensemble performs music on authentic instruments from different cultures and regions of the world. These ethnic styles include: Middle East, Arabic, African, Brazilian, Mexican Marimba, and Caribbean Steel Drum styles.
Through the Musical Arts Series, percussion students have the opportunity to work with internationally recognized artists. Recent guest artists include Danny Frye, The Percussion Group Cincinnati, Ethos Percussion Group, Maelstrom, Brahmah, Hands On'Semble, Tempus Fugit, Nuclear Percussion Ensemble, Global Percussion Trio, Taikoza, D'Drum, Meadows World Music Ensemble, and Talujon.
Vocal Ensembles
The Southeastern University Chorale under the direction of Dr. Patrick Antinone is the University's flagship choral ensemble, performing the highest quality choral literature on- and off-campus. The ensemble is open to undergraduate and graduate students representing all majors and seeks to advance the University's Mission: "To provide an environment of academic excellence that enables students to reach their highest potential."
The Southeastern Chorale tours annually into area schools, having performed in over 100 schools in Oklahoma and Texas in the past 10 years in support of music education. Regional tours in the United States have included performances in Dallas, TX, Austin, TX, Jackson, MS, Oklahoma City, OK and, New Orleans, LA, among others. In December 2012, the Chorale made their European debut with performances at St. Michal's Church in Budapest, Haydnhalle in Eisenstadt, St. Martin's Church in Prague, and both St. Stephen's Cathedral and Minoritenkirche in Vienna.
The Southeastern Chorale is often featured at state, regional and national events with performances including the Oklahoma Music Educators State Conference, The National Endowment for the Arts Choral Symposium in Austin, Texas and made their Carnegie Hall (NYC) debut in the premiere of David Childs' Requiem.
The Southeastern Chorale has been afforded the opportunity to perform with some of the world's most noted choral ensembles including Anonymous Four, Quink, Chanticleer and Grammy-nominated Conspirare. Notable collaborations for Southeastern Chorale include Grammy nominated conductor Craig Hella Johnson, Grammy winning soprano Cynthia Clawson (2008), and composer David Childs (2009).
Chorale members annually serve as hosts for regional choral contests and festivals, perform for campus functions including Freshman Convocation, Homecoming, SE Live, and Graduation.
New Singers are Always Welcome
SE Chorale is a one credit-hour course open to all SOSU undergraduate students with an interest in choral singing. Current course meeting: MWF 12 -1:50pm. Prerequisite: Audition*
*As a rule, auditions occur the week prior to the start of term in the fall. Membership in the SE chorale is a full-year commitment pending prior arrangements per Dr. Antinone.
The Southeastern University Symphonic Chorus under the direction of Dr. Patrick Antinone is the University's largest choral ensemble, exploring expanded works of choral literature. The ensemble serves a dual role as both the All-University Chorus for SOSU and Community Chorus for the region including southeast Oklahoma and north Texas. Symphonic Chorus is made up of undergraduate students of all majors as well as faculty, staff and community musicians.  The organization seeks to advance the University's Mission: "To provide an environment of academic excellence that enables students to reach their highest potential" through choral excellence.
Symphonic Chorus is the lead ensemble for Southeastern's Candlelighting Concert: the longest continuing tradition for the arts and community on campus. This fall will mark the 100th edition of the historic concert. The event will feature an exciting program representing masterworks of the choral tradition, innovative new choral settings and traditional holiday favorites. Notable prior performances have included masterworks of Handel, Orff, Respighi, Mozart, and J.S. Bach and Schubert, many of which occurred in collaboration with the Sherman Symphony Orchestra.
Additional annual performances include campus and community appearances and a full spring program.
New Singers are Always Welcome
Symphonic Chorus (Choral Union) is a zero credit-hour course* open to all SOSU undergraduate students, faculty, staff and community at-large members with an interest in choral singing.
Current course meeting: M 6-8pm. Prerequisite: Course Registration/Contact Dr. Antinone (no audition necessary)**
*Zero credit-hour course: No tuition/ fee requirement for SOSU students or faculty/staff/community participants.
**The Symphonic Chorus meets on Mondays at 6:00pm to accommodate those who work during the day. Students: register for MUS 1411 (Choral Union). Faculty, staff and community at-large members: No course registration required. Interested singers, please contact Dr. Patrick Antinone.
Opera Theatre students perform a full length opera in the Fall semester and collaborate with the Theatre Department in the Spring to present a full-length musical. Recent performances include Douglas Moore's Gallantry, Gian Carlo Menotti's The Telephone, Giacomo Puccini's Suor Angelica, and Lerner & Loewe's My Fair Lady.