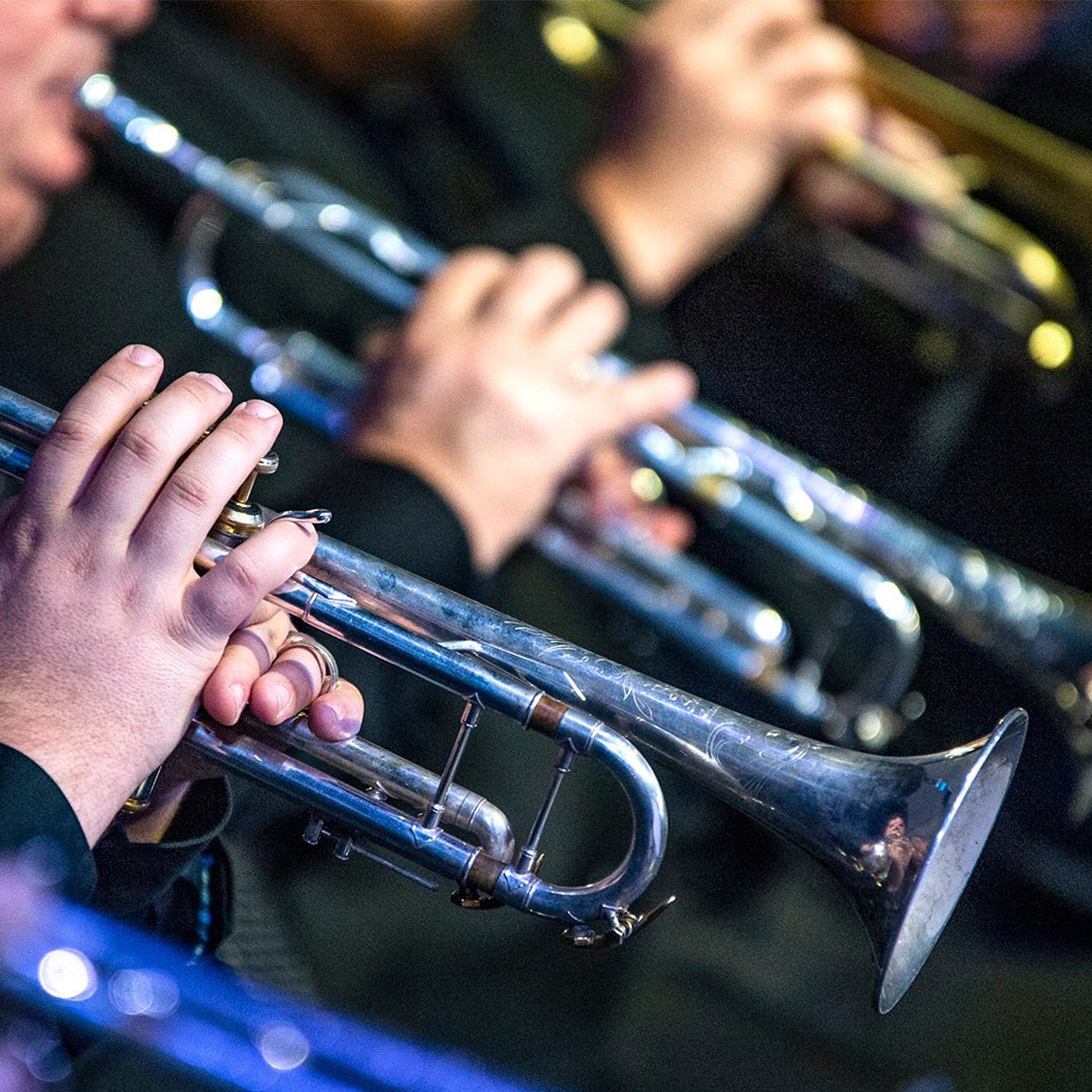 Musical Arts Series and Department Events
Given the nature of music, performance is at the heart of out Music programs. Multiple events and series run throughout the year bringing artists from across the nation and across the globe. Take a look at the Music Calendar for student practices, performances, and important dates.
Musical Arts Series – 48th Season
All concerts are free to the public. Thank you to our sponsors and donors, without whom this series would not be possible. Special thanks goes to the National Endowment for the Arts, Oklahoma Arts Council, Steger Piano Institute, and the Clark and Wanda Bass Foundation.
Consider being a part of the Musical Arts Series by becoming a donor. Contact Dr. Catalin Dima at cdima@se.edu or call 580-745-2096 for more information.
The 2020-2021 Musical Arts Series will take place online only. SE Recitals will be live streamed at 7:30 p.m. on Southeastern Musical Arts Series Facebook page: www.facebook.com/SOSUMAS. Please visit www.se.edu/music/musical-arts-series/ or contact the Department of Music at 580-745-2088 for more information.
Contact the Department of Music at 580-745-2088 or Southeastern Oklahoma State University at (580) 745-3090 to request assistance due to a disability.  Accommodations cannot be guaranteed without adequate advance notice.
https://www.gustavoromero.com/
September 15th, 2020, 7:30pm – SE Recital
Ruth Steger Piano Institute and Clark and Wanda Bass Foundation Lectureship
"A pianist of genius" – The Washington Post "Mr. Romero has great agility, adequate power and an unusually large repertory of colors and dynamic levels. More important, these virtues evoked a sense of the music at hand rather than mere piano techniques" – The New York Times "The playing is authoritative incontrovertibly Beethovenian in re-creating the composers style, technically immaculate and compelling in the extreme" – The Los Angeles Times
Concert pianist Gustavo Romero is internationally renowned for his exceptional technical brilliance and interpretive depth and has gained an acclaimed reputation for his commitment to in-depth exploration of a wide variety of composers.
A native of San Diego with heritage in Guadalajara, Mexico, Mr. Romero discovered his love and gift for the piano at the age of five and gave his first public performances at the age of 10, when he also won his first piano competition. At 13, he performed with the New York Philharmonic under Zubin Mehta. Rudolf Serkin recognized his exceptional talent, and at the age of 14 he attended the Juilliard School.
Mr. Romero has won many prizes including first prize in the prestigious Clara Haskil International Piano Competition in Switzerland, The Avery Fisher Career Grant and The Musical America Young Artist Award.
He has performed with the world's leading orchestras including: The New York Philharmonic, Los Angeles Philharmonic, Atlanta Symphony, Houston Symphony, The Boston Pops Orchestra, Pittsburgh Symphony Honolulu Symphony, New World Symphony, English Chamber Orchestra, Radio France Orchestra, Philharmonia Hungarica, New Japan Philharmonic, Shanghai Orchestra, Cape Town Philharmonic, Russian Symphony Orchestra, Thailand Philharmonic Orchestra, and the Liège Philharmonic, a concert internationally televised from the United Nations.
For the past twenty years, Mr. Romero has performed a summer series of concerts in La Jolla, California, sponsored by the Athenaeum Music and Arts Library featuring music of one composer each year. He has presented the works of Chopin, Bach, Schumann, Schubert, Brahms, Mendelssohn, Haydn, Händel, Liszt, Debussy, Gershwin, Ravel and Rachmaninoff, the complete piano sonatas of Beethoven and Mozart, the complete four-hand and two-piano works of Mozart and Clementi and piano concerti of Mozart, Beethoven, Haydn and Mendelssohn conducting from the keyboard.
In the 2017/18 season Mr. Romero focused on the piano works of Enrique Granados, celebrating the 150th anniversary of his birth. Concert tours in 2017/18 include Italy, United Kingdom, Ireland, Vietnam, Taiwan, South Africa and the United States.
In the 2019/20 season Mr.Romero will present the complete Beethoven Sonatas in celebration of the 250th anniversary of Beethoven's birth. This complete cycle of 32 Sonatas in seven concerts will be presented in the US, Europe, Asia and South Africa.
http://www.oscarpassley.com/html/
October 6th, 2020 – 7:30pm SE Recital
Oscar Passley has served on the faculties of the Elan International Music Festival, University of Kentucky Summer Trumpet Institute, Blast of Brass Summer Festival, Tarrant County College (Northwest campus), Northlake College, Collin College and co-founder/host of the annual Dallas Trumpet Workshop. Currently, Passley is the faculty coordinator of the music department at Eastfield College and Lecturer of Trumpet at the University of Texas at Arlington. He is sought after as an adjudicator and clinician throughout the state and nation conducting clinics and workshops at schools and festivals including the Dallas Music Educators Association Jazz Festival, Tarleton State University Jazz Festival, Southwestern Oklahoma State University Jazz Festival, Baltimore County Public Schools High School All Honors Jazz Concert, National Trumpet Competition Jazz Semi-Finals and the International Trumpet Guild Jazz Scholarships Competition. In addition, he has also been a guest artist at numerous colleges and universities throughout the country including Mountain View College, Richland College, Missouri State University, Northeastern State University, Southeastern Oklahoma State University, Oklahoma Baptist University, Texas Wesleyan University, Texas A&M University at Commerce, University of Dallas, Texas Christian University and Baylor University.
Equally proficient in both classical and jazz genres, Oscar Passley has performed with groups such as the Price/Wright Jazz Orchestra, Kitchen Sync Big Band, Rizpah Lowe Jazz Quartet, Alexandria's Ragtime Band, Bourbon Street Stompers, Inner City All-Stars Brass Band, Eastfield College Faculty Jazz Combo, Texas Star Brass Band, Dallas Wind Symphony, Las Colinas Symphony, Garland Symphony, Arlington Symphony, New Philharmonic Orchestra of Irving, Chamber Orchestra of Denton, Voices of Change, Metropolitan Classical Ballet Orchestra, and was Co-Principal at the 2008 Missouri Symphony Summer Festival. He also has been performing with the Dallas Opera Orchestra since the 2005-2006 season.
Oscar Passley has shared the stage with such notable musicians as Andrea Bocelli, Denyce Graves, Michael Sachs, Scott Hartman, Elizabeth Freimuth, Gladys and "Bubba" Knight, Louis Price (former lead singer for the Temptations), Heather Headley, "Bebe" Neuwirth, B. J. Thomas, Bowling for Soup, Rebirth Brass Band, Steve Lippia, Benjamin Wright, Winard Harper, Regina Carter, Bobby Sparks, Keith Anderson, Brad Leali, Tony Baker, Byron Stripling and Wynton Marsalis.
In June 2018, Passley joined the SMU Meadows new music ensemble SYZYGY on a three city tour of South Africa. He played principal trumpet in the "Wading Home" chamber opera production. Venue performances that took place included Nelson Mandela University, Stellenbosch University and University of Pretoria.
A native of Baltimore, Maryland Passley graduated from Morgan State University with a B.A. in music where he studied trumpet with Melvin Miles. He finished master degrees in trumpet performance (M.M.) and music education (M.M.E.) in 2004-2005, studying jazz trumpet with Mike Steinel and classical trumpet with John Holt at the University of North Texas. Dr. Passley holds a Doctor of Musical Arts in trumpet performance at UNT.
https://www.orphicpercussion.com/
November 10th, 2020 – SE Masterclass
November 10th, 2020, 7:30pm – SE Recital
Orphic Percussion is a Northern California-based percussion quartet dedicated to the creation and performance of new music. Orphic means "beyond ordinary," a phrase that characterizes the ensemble and its mission: to commission and premiere new works by today's most compelling composers; to broaden the audience for contemporary music; and to present concerts that are vibrantly communicative, musically expressive, and inspiringly virtuosic—or, quite simply—extraordinary.
Orphic's recent highlights include recital tours in the Midwest and Pacific Northwest, the world premiere of Stefan Cwik's Relics: Dances for Percussion Quartet and Orchestra with San Francisco's Symphony Parnassus (nominated by the San Francisco Classical Voice for "Best New Music Performance" of the 2017-18 season), university residencies at Southern Nazarene University (OK) and George Fox University (OR), and a return engagement at the Arcata Playhouse (CA). In addition, Orphic has been self-producing an ongoing concert series at University Presbyterian Church (CA) since early 2017, and maintains a close relationship with the Nevada County Composer's Cooperative, having premiered works by Alexis Alrich, Mark Vance, and Durwynne Hsieh.
January 26th, 2021, 7:30pm – SE Recital
The RADIX Cello Quartet is a newly formed ensemble comprised of cellists: Hasmik Vardanyan, Vyacheslav Dobrushkin, Sonya Matoussova and Hyeok Kwon. Inspired by the cosmopolitan city of Houston and it's range of multicultural diversity, RADIX aspires to promote the many different cultures that are found within the quartet. Their upcoming season reflects this ideology, performing works by Armenian composer, Komitas, on September 22nd at the St. Kevork Armenian Church of Houston, and for the Tallowood Concert Series in their international themed concert, Music: the Universal Language, on October 6th. The quartet is also involved in educational outreach, as they are featured in the Moores School of Music's Tuesday Recital series.
Armenian cellist Hasmik Vardanyan has performed as a soloist and chamber musician in major concert halls around the world, including Carnegie Hall, Kennedy Center, the Paris Opera House, Tchaikovsky Music Hall in Moscow, Berlin Opera House, St. John Smith Square in London and the Munetsugu Hall in Japan. Ms. Vardanyan is a top prizewinner in many national and international competitions. She won the second prize at the Aram Khachaturyan International Cello Competition in 2010. In 2011, she received first prize in Schlern International Cello Competition in Italy. In 2012, Ms. Vardanyan received the Presidential Youth Award for the best performance in classical music, which was presented by the President of the Republic of Armenia. She began her international appearances in 2005 as a soloist and principal cellist in the Second Dubai International Festival for Young Virtuosos. The same year, she started working with the Armenian State Youth Orchestra, performing in concert halls across Europe and Russia. In 2009, Ms. Vardanyan was invited to perform with the Armenian National Philharmonic Orchestra. The same year she won the First Prize in the Komitas International Competition.
In addition to her appearances as a soloist and recitalist, Ms. Vardanyan performed regularly as the cellist of the highly-esteemed Komitas National String Quartet of Armenia. The quartet performed in Poland, UAE, Japan, Norway, Denmark, France, Croatia, Moldova, and Russia. In 2010 the quartet recorded Miniatures by Komitas-Aslamazyan which received "The Best Classical Album" in the National Music Awards Ceremony.Ms. Vardanyan has attended masterclasses with Vagram Saradjian, Natalia Gutman, Steven Isserlis, Alexander Chaushyan, Alexander Ivashkin, Mikhail Utkin, Ramon Jaffe, Alexander Rudin. Xavier Phillips. She began her formal cello lessons at the age of nine in Hrazdan. After moving to Yerevan in 2002 she studied at the Tchaikovsky Music School with Armen Mesropyan, principal cellist of the Armenian National Philharmonic Orchestra.
Committed to chamber music and community engagement, Ms. Vardanyan is a member of the Da Camera Young Artist Program in Houston. Currently, she is pursuing a Doctor of Musical Arts degree at the University of Houston, where she studied with Vagram Saradjian.
Cellist Vyacheslav Dobrushkin was born in Ukraine in April 22, 1989. At the age of seven, he started his studies in the Music School of Uzhgorod. In 1997 and 1999, he obtained the first place in the Regional Competition of Violoncello. In 1998 he earned second place. From 1999 until 2007 Dobrushkin was a student of the University Institute of Fine Arts (UIFA) in Colima University, Mexico. While there, he was invited to play as a soloist with the San Luis Potosi Orchestra (2004). In 2006, he obtained First Place in the Second National Competition "Petrof-Simphony-Pearl River" for young performers. Dobrushkin has participated in several Music Festivals, academic concerts, special recitals, and various other concerts. He completed his Bachelors and Masters degrees at the Moores School of Music, University of Houston. Currently, he is the principal cellist of the Texas Medical Center Orchestra.
A native of St. Petersburg, Russia, cellist Sonya Matoussova now resides in Houston where she is actively involved in the city's music scene as both performer and educator. As a 2015-2016 Da Camera Young Artist, Ms. Matoussova makes regular appearances at the Wortham Center, the Museum of Fine Arts, and the Menil Collection, as well as in hospitals and schools in the Houston area.
Since 2014, Ms. Matoussova has held the position of assistant principal cellist of the Symphony of Southeast Texas, and in November 2015 was featured as soloist with the orchestra. She is also the current principal cellist of the Moores School Symphony Orchestra and a member of the newly-formed Bayou City Symphony. A strong supporter of new music, Ms. Matoussova served as the cellist of the Aura Contemporary Ensemble from 2013 to 2015. In addition to maintaining an active private studio, Ms. Matoussova teaches for the Coda Program; a Houston Youth Symphony initiative inspired by "El Sistema".
In 2014, Ms. Matoussova was awarded First Prize at the Schlern International Music Competition in Italy. She was also a first-place winner at the Canadian Music Competition for two consecutive years, as well as a finalist in the Festival de Musique Classique du Bas-Richelieu Competition in Sorél-Tracy, Canada.
Ms. Matoussova has participated in many music festivals, including the Domaine Forget Academy (Canada), Schlern International Music Festival (Italy), Tiberius Week (Romania), Texas Music Festival (USA) and the Orchestre de la Francophonie (Canada). She has performed in masterclasses for Mischa Maisky, Alexander Rudin, and Alexander Ivashkin, among others. Her passion for chamber music has taken her all over the world, with performances in Canada, the United States, Brazil, Italy, Poland, and Romania. In 2008, Ms. Matoussova appeared with I Musici de Montreal as one of the soloists for the premiere of Paul Desenne's Dragoncello for six celli and string orchestra.
Ms. Matoussova holds a Bachelor of Music degree in Cello Performance from the University of Montreal (class of Yuli Turovsky) and a Master of Music degree and Certificate in Music Performance from the University of Houston (class of Vagram Saradjian).
Hyeok Kwon recently graduated from Indiana University, Jacobs School of Music with a Masters of Music degree and a Performer's Diploma where he studied under Eric Kim. He earned a Bachelor of Music degree at the Eastman School of Music under the tutelage of David Ying, from the Grammy award winning ensemble- The Ying Quartet. He has participated in numerous prestigious music festivals such as Sarasota Music Festival, The New York String Orchestra Seminar, ENCORE: School for Strings, National Orchestra Summer Institute and Aspen Music Fesival where he served as Assistant Principal Cello for the Festival Orchestra. Hyeok has been awarded first prize in multiple competitions including the Fort Bend Symphony Competition, Houston Civic Symphony Competition, Houston Youth Symphony Competition, and High School for the Performing and Visual Arts Concerto Competition, and was a finalist in the Houston Symphony League Concerto Competition, the George and Peggy Schmidbauer International String Competition, and the Eastman Cello Concerto Competition.
Not only is he a gifted performer but he is also gifted in teaching. During his time at Indiana University, he taught cello as Associate Instructor at Jacobs School of Music. Prior to his time in Indiana Hyeok has taught privately at the Tallowood Academy of Fine Arts.
Hyeok began studying cello at age 11 with Donna Rogers in Houston, TX. Other instructors include distinguished pedagogues such as Timothy Eddy, Ronald Leonard, Clive Greensmith and has performed master classes for Steven Isserlis, Desmond Hoebig, the Ying Quartet, and the Kopelman Quartet. His latest achievement was to perform at the 2013 U.S. Presidential Inauguration as member of The Eastman School String Quartet. Hyeok has been a member of Tallowood since 2000.
February 1st, 2021 – SE Masterclass
February 2nd, 2021, 7:30pm – SE Recital
Fabiana González
Puertorican mezzo-soprano Fabiana González is quickly gaining attention throughout the United States and Europe for her "superb combination of tonal warmth and rhetorical directness" (San Francisco Chronicle). She received a bachelor's degree from the Conservatory of Music of Puerto Rico and a Master's Degree in Early Music at Yale University under the tutelage of James Taylor. She is currently completing a Doctorate of Musical Arts Degree at the University of North Texas where she has worked closely with vocal pedagogy expert Stephen Austin. In the fall of 2015 Ms. González received a research grant from the University of North Texas to study with Bavarian fortepiano virtuoso, Christoph Hammer in Augsburg, Germany. She currently resides in San Juan, Puerto Rico where she teaches voice and vocal pedagogy at the San Juan Children's Choir and at the University of Puerto Rico. In 2016 she sang a series of solo concerts as part of a tour of Finland which included a solo performance in the Aino Acktén Chamber Music Festival. She has performed with the Dallas Bach Society and the Philharmonia Baroque Orchestra in San Francisco as well as with the Leopold Mozart Zentrum Orchestra in Augsburg, Germany. Several chamber-music highlights include performances with The Rose Ensemble in collaboration with the Minnesota Orchestra and concert tours of Germany, Austria, Croatia, Peru, and Puerto Rico with the Fantasmi Ensemble. She has sung under the baton of Masaaki Suzuki, Andrew Megill, Dale Warland, Simon Halsey, James O'Donnell, Simon Carrington, James Richman, Richard Sparks, and Paul Leenhouts. She has performed with vocal ensembles including Orfeón San Juan Bautista, Yale Schola Cantorum, UNT Collegium Singers, the Thirteen Choir, Choral Pickup, and the South Dakota Chorale.
Luis Marín
Born in San Juan, Puerto Rico, Luis Marín began studying piano at the age of seven. At 20, Luis went on to study at Berklee College of Music, working on his natural craftsmanship with Bill Davis, Ray Santisi and Jeff Covell. During his 30 years on the music scene, he has worked with such talents as Jazz and Salsa icons as Andy Montañez, Cheo Feliciano, Gilberto Santa Rosa, Celia Cruz, Willie Colón, Oscar D'León, Luis Enrique, Fania All Stars, Puerto Rico All Stars, Descarga Boricua, Orquesta del Día Nacional de la Salsa, Juan Luis Guerra, Victor Manuelle, Ruben Blades, Eddie Palmieri, David Sanchez, Justo Almario, Ignacio Berroa, Eddie Gomez, Kenny Werner, Mario Bauzá, Tito Puente, Chick Corea, Dave Valentin, Chucho Valdés, Mario Rivera, Israel "Cachao" López, Eddie Palmieri, Giovanni Hidalgo, Brian Lynch, among others, on both live presentations and musical recordings. In 1999 Luis Marín recorded his first album in the jazz scene, "Inconsolable", which was received by the critics as one of the most important jazz albums in the local scene. In 2003 Luis released a live recorded album " Live at Niuyorican Cafe Vol II" which has been reissued in digital distribution on major outlets around the world. His third release "The One" showcase his talent on a magical trip of diverse musical influences, exciting and introspective rhythms and heartfelt melodic and harmonic messages from the heart. For many years, Luis Marín shared his music and knowledge teaching at the Puerto Rico Conservatory of Music, in which he served as Department Chair and as an active piano jazz, ensembles and Big Band teacher. Nowadays he is a recognized clinician in the Latin American academic circuit, and a sought-after pianist in the popular music market as well. sharing his talent with music students in the U.S. and Latin America.
March 29th, 2021 – SE Masterclass
March 30th, 2021, 7:30pm – SE Recital
"Stephanie Zelnick is fabulous…bringing her considerable all to focus in a most rewarding performance-hopefully one that will inspire other clarinetists…"-Audiophile Audition
Hailed as "simply sublime" and "exquisite," Stephanie Zelnick is one of the most dynamic clarinetists of her generation. She has performed as a soloist throughout the United States, Asia, South America, and Europe to great critical acclaim. She is currently associate professor of clarinet at the University of Kansas and principal clarinet of the Boulder Philharmonic Orchestra. She previously held principal clarinet positions in the Central City Opera, Mississippi Symphony, Prague Chamber Symphony, the Colorado Ballet, and the Greeley Philharmonic Orchestras. In addition to her tenured positions, Dr. Zelnick has appeared with various other orchestras including Colorado, Kansas City, Houston, Tallahassee, and Tucson Symphonies, as well as the Johann Strauss Opera in Vienna.
Dr. Zelnick has performed and taught extensively in Italy, France, England, Denmark, Spain, Belgium, the Netherlands, Switzerland, Austria, Macedonia, Czech Republic, Slovakia, Costa Rica, Canada, Israel, Slovakia, Germany, and most recently at festivals and residencies in Brazil, Lithuania, Serbia, Romania, Colombia, Costa Rica, the UK, Mexico, and Taiwan. Recent performances and master classes include the Juilliard School, the Eastman School of Music, Northwestern University, Yale School of Music, the Florida State University, the University of Michigan, and Carnegie Hall.
Dr. Zelnick's recordings can be heard on the Innova, Accademia del Clarinetto, and Naxos labels, among others. She has released two solo albums, Diasporaand Diversions: the Midcentury Clarinet. She can often be heard on NPR, international media outlets, and has appeared as a soloist on the Dame Myra Hess Series broadcast live on WFMT Chicago.
With Mariam Adam she is a founder of the AdZel Duo, a group that is dedicated to establishing cultural dialogues through music and outreach for students in developing communities. They were most recently featured on the University of Delaware Clarinet Day, Rutgers Woodwind Day, the Oklahoma Clarinet Symposium, ICA ClarinetFests, and at the Real Conservatorio Superior de Música de Madrid. Their debut album, featuring original works by Mohammed Fairouz, Jason Barbara, and Anne Guzzo, will be available in Spring, 2018.
Dr. Zelnick is a noted scholar and has published numerous reviews and articles for the Clarinet and NACWPI. Her book, The High Altitude Clarinetist, will be published in Fall 2017. She is active in the International Clarinet Association, serving as Wyoming State Chair for the organization, the artistic committee for the 2008 convention, and co-Artistic Director of the ClarinetFest 2016 at the University of Kansas.
Dr. Zelnick previously served on the faculties of the University of Northern Colorado and the University of Wyoming. She received degrees from Rice University, University of Northern Colorado, and the Academy for the Performing Arts in Prague as a Fulbright Scholar. In addition to her performing, She is a member of the National Peer Review Committee for the J. William Fulbright Committee. She is a Buffet Crampon Artist-Clinician.