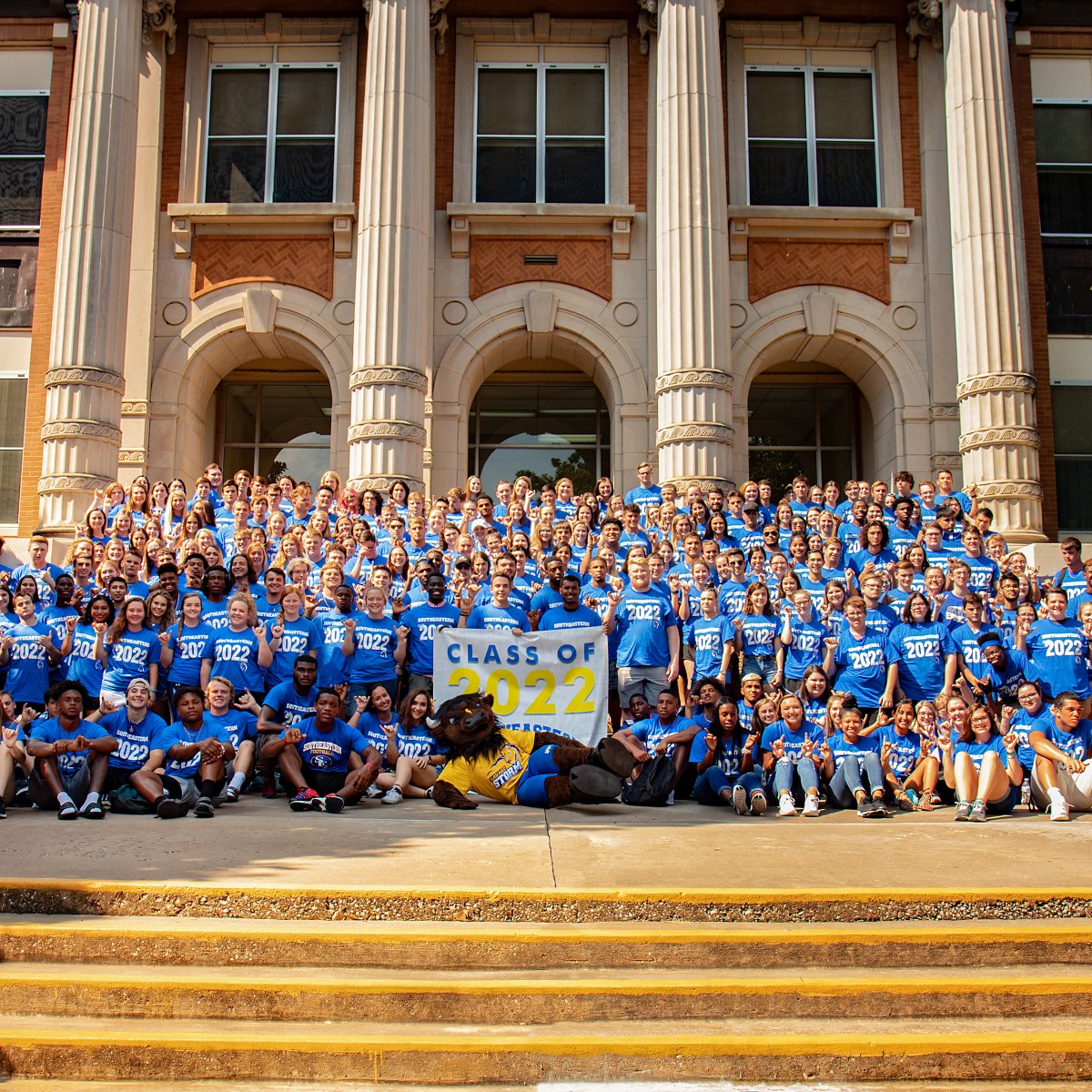 Faculty Guide for Student Advisement
Testimonials
"Academic Advising is the only structured activity on campus in which all students have the opportunity for one-to-one interaction with a concerned representative of the institution."
UCLA-Higher Education Research Institute
"In four-year, public institutions, academic advising is ranked #1 in importance (tied with instruction) in nationwide surveys of student satisfaction."
Noel-Levitz National Trends in Student Satisfaction and Priorities-2005
"Academic Advising helped me figure out where I wanted to go and more importantly, how to get there."
Vanessa Andrews-Bio-technology major, SOSU Class of 2008
"I appreciated it when my advisor really helped me explore my goals and the career opportunities available in my field."
Melinda Price-Chemistry major/Marketing minor-SOSU Class of 2007
"My advisor brought the curriculum to life, helped me believe I could accomplish more than I thought and set me on the path to success."
Tim Boatmun-B.A. in Psychology/Sociology-SOSU Class of 1988
Disclaimer
This guide is intended to assist faculty in the advisement of their students. The Southeastern 2019-2020 Undergraduate and Graduate Catalog is the official document in regards to all policies and procedures mentioned in this guide.
Southeastern Advisement Policy
Southeastern currently uses a "blended" advising model. This means that both professional and faculty advisors are utilized to assist students in meeting educational goals and interpreting university policy. In general, professional advisors in the Academic Advising and Outreach Center (AAOC) or in Student Support Services advise freshmen (students with less than 24 credit hours), undecided majors, transfer students and students with academic deficiencies. University faculty will serve as the students primary advisors once the student has completed 24 hours and/or declared an academic major. Other institutions may use a "centralized" advising model (professional advisors only) or a "de-centralized" advising model (using faculty advisors only). Southeastern believes that the blended model is the best organizational structure for our student population.
A significant number of incoming student are first-generation, lower income, academically under-prepared, and rurally isolated. Professional advisors help with the transition into a new culture and serve as a hub for first-year services. Faculty advisors provide expertise in the overall goals of the curriculum, understanding of how the curriculum relates to the student's long-term goals and provide the mentorship and intellectual guidance needed to produce successful students.
All students who were admitted after spring of 2003 will have an "advisement hold" each semester. A Southeastern advisor must remove the hold before the student can enroll. If done electronically, the hold will be removed for the semester. An advisors signature on an enrollment card will allow the student to enroll at the Registrar's office for identified courses. However, it will not remove the hold for the semester.
Developmental Advising: A Definition
"Obviously, being knowledgeable about degree programs and courses is essential but the most important thing to me is to show a genuine interest in the student I am advising and to provide a friendly, relaxed atmosphere. I want them to feel like they are the reason I am here and I try to give them as much time as they need in an advising session."

Dr. Kitty Campbell-Professor, Management and Marketing
The academic advising literature now offers many definitions of the advising process that are grounded in a developmental perspective (Crookston, 1972; Crockett, 1978; Marsh, 1978; Grites, 1979; Walsh, 1979; Ender, Winston, and Miller, 1982). Developmental academic advising is defined as a systematic process based on a close student-advisor relationship intended to aid students in achieving educational, career, and personal goals through the utilization of the full range of institutional and community resources. It both stimulates and supports students in their quest for an enriched quality of life.
Developmental advising relationships focus on identifying and accomplishing life goals, acquiring skills and attitudes that promote intellectual and personal growth, and sharing concerns for each other and for the academic community. Developmental academic advising reflects the institution's mission of total student development and is most likely to be realized when the academic affairs and student affairs divisions collaborate in its implementation.
If the goal of developmental advising is to be achieved, seven conditions or principles are essential in the advising process.(Ender, Winston, and Miller, 1982). They have proven utility within the context of developmental advising (Ender, 1983).
Academic advising is a continuous process with an accumulation of personal contacts between advisor and student–these contacts have both direction and purpose.Whether in the context of the group format or a series of individual appointments between advisor and student, the process must be one that is purposeful. Both participants should be aware of the purpose the institution ascribes to the advising process. Outcome objectives of "quality" advising must be established and communicated to administrators, faculty, staff, and students. Each participant in the advising process should have an understanding of what advising can and cannot deliver. Responsibilities of each partner in the process need to be discussed until mutual agreement is reached.
Advising must concern itself with quality-of-life issues, and the advisor has a responsibility to attend to the quality of the student's experience in college. This condition is directly related to the mission of the institution. Are student outcome goals established by the institution, and do they reflect intellectual, personal, physical, and moral/ethical concerns? If so, are advisors aware of and do they communicate to students the resources and services available on campus and in the community that are designed to enhance the quality of the student's educational experience? Are students aware of institutional objectives as they relate to student outcomes resulting from college participation? Do advisors understand their critical roles as institutional representatives? These are important questions that need affirmative responses if the goal of developmental advising is to be achieved.
Advising is goal related.The goals should be established and owned by the student and should encompass academic, career, and personal development areas. The formation of student goals and objectives must be one outcome of the advising process. The advisor should assist in the goal-setting process and challenge students to consider the outcomes they are seeking as a result of their interaction with the higher-education environment. The articulation and recording of goals lend direction to the student's matriculation and assist in the clarification of both student and advisor roles in the process.
Advising requires the establishment of a caring human relationship–one in which the advisor must take primary responsibility for its initial development.All institutions of higher education must communicate to students their regard for them as individuals in the learning process. The strength of this relationship will illustrate the institution's willingness to work with students as individuals striving to take full advantage of the resources available to enhance their educational success.
Advisors should be models for students to emulate, specifically demonstrating behaviors that lead to self-responsibility and self-directiveness. Perhaps the greatest impact a faculty member can have concerns helping students learn basic skills necessary to excel in life after college. All advisors need to consider the impact they are having on students as a result of the interactions that take place between them and the behaviors they demonstrate in and out of the classroom and advising office.
Advising should seek to integrate the services and expertise of both academic and student affairs professionals.One strength of any advising system is the attention paid to the area of faculty-staff collaboration. Scarce resources, as well as practical considerations, mandate a symbiotic relationship between student affairs and academic affairs. There is no place within the present-day realities of higher education for the duplication of services. Collaboration is essential to the overall success of an advising system concerned with the students' total development.
Advisors should seek to utilize as many campus and community resources as possible.The collaboration called for should manifest itself through the referral process. Up-to-date information in the areas of academic and student services and the ability to make timely and appropriate referrals are essential for any successful advising program. This definition and the seven conditions outlined challenge the advisor and institution to engage with students in ways that stretch them.
Reference: Winston, R.B, Miller, T.K, Erder, S.C, Grites, T.J, (1984) Developmental Academic Advising. San Francisco: Jossey Bass
With permission from Colorado State University-Center for Advising and Student Achievement
Continuum of Advisor Interactions
"Although students are ultimately responsible for their education, as advisors we have many opportunities to impact their decision-making. Advising isn't just getting students into the right classes. This is one of our main opportunities to build relationships and provide individualized attention and mentoring."

Dr. Charla Hall-Professor, Department of Behavioral Sciences
The interactions between an advisor and a student can be seen as a continuum. Excellent advisors will address the full range of advising interactions. This may occur in official advising sessions or in more informal settings.
Card-Student selects courses and times, advisor signs off.
Courses-Advisor helps student to identify courses and times for that semester. May discuss course descriptions.
Curriculum-Advisor helps student understand how each particular course fits into the general education or major/minor curriculum. Helps student understand how each course fits into the "big picture" and relates to the student's long-term goals.
Career-Advisor helps student explore how each course relates to expected professional competencies. Discusses with student career opportunities and career preparation activities. The advisor stresses the importance of early resume building.
Calling-Advisor explores with student the congruence between career choice and internal vocational calling. (example: high ability students may be pressured to enter Math/Science but they really want to be an Elementary Education teacher or a student really wants to be a Math major but feels Elementary Education provides job security.)
Connectedness-Advisor explores with student the level of contact and support student is receiving/needing. Advisor recognizes that all learning happens within the context of a relationship. Advisor explores opportunities for students to be involved with faculty members on academic projects.
Commitment-Advisor explores with student the level of commitment student is able/willing to provide to their education experience. Advisor explores with student the consequence of outside employment on timeliness of degree completion and academic experience. It is important to be non-judgmental; basic needs and family responsibilities always trump school. (Myth-students must be enrolled full-time to receive financial aid.)
Confidence-Advisor explores with student the level of empowerment student feels concerning ability to reach education/career goals. Students often face courses in which they question their ability to be successful. An advisor can clarify the expectation for the course and show how past experiences prepared them for success.
Nine "Necessary Connections" To Consider For Current Students and Students in Transition
(Adapted from Pasztor, Polowy, Wasson, and Wolf, 1987)
Connection to Information/Knowledge
Connection to a Significant Person
Connection to a Group
Connection to a Meaningful Role
Connection to a Source of Joy
Connection to a System of Values
Connection to History
Connection to a Place
Connection to a Means of Support
Initial Questionnaire
"I think the best thing an advisor can do is to LISTEN to the student. Ask questions about their life, responsibilities, transportation (commuter?), job, campus activities (athletics, debate, band, clubs, Greek…anything that takes time), timeline for graduation, parental (or spousal) needs and responsibilities, then design a schedule with all of that in mind. It usually takes me 30-minutes of talking to a student before I ever even attempt a schedule. I want to know them first."

Dr. Wayne Jones-Chair, Department of Occupational Safety and Health
Name_____________________________ SID#_____________________
Do you have any past college credit? Yes or No
www.okhighered.org/student-center/transfer-stdnts/ or matrix for Texas colleges Registrar-ext.2165
Are you required to take any remedial courses? Yes or No
AAOC-ext. 2370
Will you need any accommodations to help you reach your educational goals? Yes or No
Disability Services-ext. 2392
Are you 19 or over (new student or stopped high-school)? Yes or No
Educational Opportunity Center-ext. 2913
Are you Native American? Yes or No
Native American Center for Student Success-ext. 2370
Are there any scholarship programs or activities that you are involved with? Yes or No
(ex. choir, band, P.L.C., Honors, athletics)
Did either of your parents/guardian graduate with a four year degree? Yes or No
Student Support Services-ext. 2254
Do you have a financial plan to pay for college? Yes or No
Financial Aid-ext 2186 or SSS, EOC, Native American Center for Student Success 
Are you living on campus? Yes or No
Residence Life-ext. 2948 or distance of commute?
Do you have any child-care issues? Yes or No
Child-care referral -ext. 3176
Do you want to get involved in campus groups or activities? Yes or No
Student Life-ext. 2947
Do you plan on working while attending school? Yes or No
Have you considered a major? Why this major? Yes or No
See degree plans
What are your strengths? What are your concerns?
Transfer Students
Nationwide, institution to institution transfer is an increasing trend in higher education. With almost one-third of the SOSU student population being transfer students, the need to provide quality information and services for this population is extremely high. To address this need, the Oklahoma State Regents for Higher Education has created a state-wide system to establish course equivalency and SOSU has created several articulation agreements with other institutions.
Does this class transfer?
In 1996, The Oklahoma State Regents for Higher Education created a matrix that identifies course equivalencies for state institutions. A faculty advisor can go to this website to determine if a course has been identified as equivalent. The matrix is a dynamic document that is updated each year so it is important that the advisor selects the academic year that the student took the course.
If a course is not listed in the matrix, the faculty advisor should check with the Southeastern Office of the Registrar (ext. 2165) to see if the course has previously been approved by the department. Provided in this packet is a list of course equivalencies from Texas two-year colleges with which Southeastern Oklahoma State University has articulation agreements. If there is no record of equivalency, the academic department will determine if the course is considered equivalent.
It is very important that the advisor check for course equivalency. If a student takes a course that they have already had, not only could it cost them time, effort, and money, it could also put their financial aid at risk and delay their graduation. Also, double check with the student that all of the course work they completed is on their transcript. Transfer transcripts will not be recorded on the Southeastern transcript until the student is enrolled at Southeastern. If the student is unsure that all their transfer work is recorded, have them go to the Office of Admissions (ext. 2060) to get a hard copy of their transcripts. Transcripts from all schools must be submitted even if the credit is not relevant to the current major.
What if they already have an Associates Degree?
If a student has an Associate of Arts (AA) or Associates of Sciences (AS) degree from any Oklahoma two-year institution, the general education courses are considered complete. If the student did not complete the specified general education courses required for the major, the student will need to complete those courses at Southeastern. Southeastern has an articulation agreement with the following Texas two-year schools that also allows for an AA or AS degree to satisfy the general education requirements:
Grayson County Community College
Collin County Community College
North Central Texas College (may also need lab science and one semester of college level math)
Paris Junior College
Any transfer student who does not meet these criteria should schedule an official transfer credit evaluation with the Office of the Registrar (ext. 2165)
Some students will enter SOSU with an Associate of Applied Arts/Sciences degree. This does not satisfy the general education requirements.
2+2 Agreements
In 2001, Southeastern Oklahoma State University began the process of establishing articulation agreements with two-year colleges that would allow a seamless transition from the community college to a four-year institution. Currently, Southeastern has articulation agreements with 14 area community colleges representing 39 degrees or degree options. When a transfer student enters the university and believes they followed the 2+2 agreement, the faculty advisor should check the transcript to ensure the student followed the prescribed curriculum. Occasionally, advisors at the originating institution will allow substitute courses for the student to complete the degree. If this has occurred, and the original course is a required part of the Southeastern degree plan, the student must take that course at Southeastern to be eligible to complete the degree. An example would be a two-year advisor telling a business major that they did not need the macro-economics class to complete their associate's degree. While this is true for the associates, the student would need to complete the course at Southeastern since it is a specified general education course for the major and a pre-requisite for other required courses.
Each curriculum was designed for the student to be able to complete their degree in two years past their associates. If this is the student's goal, it is important that the advisor pay attention to the specific course sequences outlined in the agreements.
Every full-time faculty member has access to the Southeastern POISE enrollment and advisement system called CampusConnect. If you have not established a Faculty CampusConnect account, you can do so by completing and submitting a form to the Help Desk (A-104).
Once you have logged into CampusConnect, you will go to the "advisor menu" and select "advise a student". At that point, entering the last name or student ID number will allow you to access their information.
On the student page, check to see if the student is identified as your department's major and if you are listed as the major advisor. If this data is inaccurate, have the student go to the Student CampusConnect (linked to the SE main page) and update their information. The information can be updated at the "student information" box and selecting "update demographic". It is important that if the student is your major that it is indicated on their demographic page.
Next you may notice that a student has some type of university hold. The student will not be allowed to enroll until the hold is removed. Holds can be placed on student records by various administrative or academic offices. The holds are placed there because the student has unfinished business or something that needs their attention. The faculty advisor can still view student transcripts and remove the advising hold regardless of other types of holds. Below is a list of the types of holds and how the student can address the issue.
Academic Suspension Hold–The academic suspension hold is placed on a record when the student is unable to maintain the minimum GPA after being placed on academic probation. To find out more about academic probation and suspension, refer to the Undergraduate Catalog (pg. 44-45). To be reinstated, contact the Registrar's Office.
Admission Hold–The admission hold is placed on a record when a student does not enroll in contiguous fall and spring semesters. If a student misses a fall or spring semester, they have to be readmitted to the University. To be readmitted, contact the Office of Admissions (ext. 2060)
Business Services Hold–The financial hold is placed on a record when the student has an outstanding balance on their account or unfinished business in Financial Aid.
Contact the Business Office (ext. 2350) or the Office of Financial Aid (ext 2186) to see if there is unfinished business that must be taken care of for federal aid.
Center Hold–The center hold is placed on a record when the student has a hold at one of the Higher Education centers. Please have the student contact the advisor at the Higher Education Center they are enrolled in or the Registrar's Office for more information.
Dean's Hold–The Dean's hold has been placed on the student's record by the Dean of Students. The student should contact the Office of Student Affairs at (ext. 2368) to find out why.
Deficiency Course Hold–The deficiency course hold is placed on a student's record when they haven't completed all required zero-level or deficiency requirements in the required time frame. The student can contact the Office of Admissions (ext. 2060) to assist with this.
Disciplinary Suspension Hold–The disciplinary suspension hold is placed on a record by the Dean of Students because the student has been suspended from the University for disciplinary reasons. The student can call the Office of Student Affairs (ext. 2368) to find out about reinstatement.
Haven: Understanding Sexual Assault — Due to new federal legislation, all students are required to receive education on sexual assault. The university has chosen to utilize the Haven program (provided by EverFi) to educate our campus community about sexual assault prevention and available resources if you or someone you know is a victim.
All students must complete both of the Haven educational modules before you are allowed to enroll for the next semester. Please allow one hour to complete Part 1. There will be a six week break between the completion of Part 1 and your notification to complete Part 2. Please allow 20 to 30 minutes to complete Part 2.
To access this training you will need to return to your CampusConnect menu and select the "Haven: Understanding Sexual Assault" option from the Student Info drop down tab. Follow the directions on Haven's webpage to complete this mandatory training.
If you have questions, please contact the Office of Equity, Compliance, and Diversity at 580-745-3090 or mdavis@se.edu.
High School Transcript Hold–The high school transcript hold is placed on a record when a student hasn't submitted their final official high school transcript. The student should contact the high school they graduated from and have them submit an official copy to the Registrar's Office.
Insurance Hold–The international insurance hold is placed on a student's record if they are an international student who hasn't met the insurance requirement. To find out how to fulfill this requirement, please have the student contact the Office of Admissions (ext. 2060).
Mid-Level Assessment Hold–The mid-level assessment hold is placed on a record because the student missed the required mid-level assessment. The student can call the Office of Academic Affairs (ext. 2208) to schedule a make-up.
Registrar's Hold–The Registrar's hold is usually placed a student's record when a student is ineligible to pre-enroll because they are currently on academic probation. Currently enrolled students on probation cannot pre-enroll because grades for the current term are not available. Once grades are posted and they have met the g.p.a. requirements, this hold will be removed to allow for enrollment. If a student needs additional information on this hold, contact the Registrar's Office.
Transcript Hold–The college transcript hold is placed on a student's record when they submitted all final official transcripts from the colleges or universities they have attended. The number represents how many transcripts are still outstanding. Students should contact the originating institutions records office and have them submit an official copy to our Registrar's Office. A student can be admitted for one-semester with unofficial transcripts.
Creating an Advising Record/Documentation
"Documenting advising sessions is crucial. Students may see another advisor and this is the most efficient way to share information."
Stacey Hunkapillar, Academic Advisor
"Documentation is becoming more and more important. Use CampusConnect to document your advising sessions. This is the best way we have to document the number of advising sessions that we have."
Dr. Charla Hall-Professor, Department of Behavioral Sciences
Documentation of advising sessions is a crucial step in academic advisement. Each faculty member has the opportunity to electronically document all advising sessions with a student. Creating an advising session clears the Advising Hold for the identified semester. Not only does documentation provide clear directives for the student, it allows for consistency in communication among advisors and allows faculty to see past information shared with/by the student. A unique feature of CampusConnect is that it allows department chairs and other university administrators to evaluate advising loads and activity. Both of the "Review Advisement History" and "Create Advising Session" is on the student page under "Advisement Options". Students can see the advising notes on their CampusConnect.
It is always good practice to start with a review of past advising sessions. This will allow the advisor to gather insight about past information the student has received and to see if they have changed majors.
After a conversation with the student, review of the transcripts, and update of the degree plan, the advisor will identify suggested courses to help the student continue towards their educational goals. To assist with this, the advisor can use "Find Courses." This will allow the advisor to identify courses, ensure that the courses are not closed, and avoid course timing conflicts. The course query can be separated out by course prefix, meeting times, location or delivery method, or instructor.
Once the courses have been determined, the advisor will create an advisement session on CampusConnect. This session will remove the student advisement hold and create a printable document for the advisors files and for the student. It is HIGHLY suggested that the advisor have the student sign a copy of the record and keep as a part of the student file. The advisor can create an advising note without removing the hold.
Things to be included in the documentation could include:
Courses for the major
Course for the minor
General Education courses
Course substitutions
Sequencing warnings
Upcoming tasks that the student needs to complete (ex. certification tests, portfolio assignments, graduation checks)
If the student is enrolling in non-suggested courses or not enrolling in suggested courses
If the student needs to speak to another faculty member about an issue
If suggested courses deviate from normal course of action, why?
Anything that the faculty advisor or student feels is important.
Once the advising hold is removed, the faculty advisor has two options. They can send the student to enroll via Student CampusConnect or they can enroll the student right then (assuming there are no other holds). There are two primary benefits to enrolling the student immediately after advisement:
It ensures that the communication concerning course suggestions was clear and the student is enrolled in the appropriate courses.
If the course is "permission required" or the system does not recognize that the student has met the pre-requisite, the faculty member can perform an over-ride or assist the student in getting "stamped" into the course. (Transfer students may have had the equivalent course at a different institution, but our system may not recognize the course as equivalent or the transfer credit has not been recorded yet.)
There are other functions on Faculty CampusConnect that are not directly tied to advisement. These functions include:
All faculty have access to:
Grade Entry
Course Rosters
Course Availability
Student Demographics
The following requires special access. For more information, contact Dan Moore (ext. 2006).
Course Enrollment Reports
Course Retention Reports
Retention in Major Reports
Note: A record of all enrollment transactions (drop/adds) are maintained. If you have any questions or concerns regarding a student's enrollment behavior, the Registrar's office will be able to provide you with the dates of the transaction and who was logged into CampusConnect when the action occurred.
SE General Education Courses
As mentioned earlier, undecided majors and freshmen with less than 24 hours will receive advisement in the AAOC. This means that it is probable that when a faculty member starts advising a student they will have some general education courses remaining. Many departments will list the general education requirements directly on the degree plan. If there is any doubt or questions about the general education requirements, please contact (or have the student contact) the Registrars office (ext. 2165).
Effective fall 2007
Communications
9 Hours
ENG 1113 Grammar and Composition (within 1st 30 hours)
3
ENG 1213 Grammar and Composition (within 1st 45 hours)
3
COMM 1233 Interpersonal Communication(within 1st 45 hours) orCOMM 2213 Business and Professional Speaking (required within 1st 45 hours)
3
Computer Proficiency Requirement
3 Hours
CIS 1003 or BIM 1553 (within 1st 30 hours or Computer Proficiency Test-Center for Student Success)
3
Sciences and Mathematics
11 Hours
Mathematics: MATH 1303, 1513, 1543, 1613, 2013, 2113, 2143, 2215, or 2283 (within 1st 30 hours)
3
Biological Sciences: BIOL 1114 or BIOL 1404 (Majors/Minors)
4
Physical Sciences: PSCI 1114, 1214, 1414; CHEM 1003, 1114, 1315; PHYS 1114 or PHYS 2015
4
Social and Behavioral Sciences
12 Hours
POSC 1513 American Federal Government
3
HIST 1513 or HIST 1523
3
ECON 2113 Principles of Macroeconomics orGEOG 2723 Regional Geography of the World orHIST 3513 U.S. Social & Cultural History orSOC 1113 Principles of Sociology
3
HPER 1113 Wellness & Positive Life-Styles orPSY 1113 Introduction to Psychology
3
Humanities
9 Hours
Humanities: HUM 2113, 2223, 2453, 2313; or ENG 2313, 3893 or PHIL 2113, 2223
3 or 6
Fine Arts: MUS 1113, 1123, 3133; or ART 1003, 1103,2103,3013, 3083; or THTR  1143, 1183, 2183, 3183
3 or 6
Foreign Language (required for Education majors)
0 or 3
Remedial Courses
Faculty advisors will occasionally see students who are required to take remedial courses. Completion of or enrollment in the remedial course is required before the student can enroll in the corresponding credited course. New students must complete remedial courses within the first 24 hours and transfer students must complete within the first 12 hours or enrollment will be limited to those courses. If a student needs a remedial course, please refer them to the AAOC (ext. 2370) to enroll in the appropriate course.
"I highly recommend students are given an overall explanation of the degree plan including why there is a specific alignment of specialization courses that must be followed. I provide a projected timeline by semester what needs taken for the "big picture". I also write on the degree plan the three tests that must be taken and at what stage success is likely. A documentation log is provided with notes every time I meet with an advisee and place it in their file."

Dr. Saundra DiPento-Professor, Elementary Education, Retired
Graduation Requirements
A minimum of 124 hours.
All university general education requirements must be met. (Specified general education courses for the major are considered a part of the degree plan)
A maximum of 64 hours may be used from a 2 year college
A minimum of 60 hours from a 4 year college.
30 hours must be taken from SOSU. 15 of last 30 must be taken from SOSU or at least fifty percent of the semester hours required in the major field of residence at SOSU. At least two courses in each major field and one course in each minor field which are used to meet degree requirements at SE.
A minimum of 40 hours must be at the junior/senior level.
All students must complete a designated number of Liberal Arts and Sciences credit. (Identified by # next to course)

Bachelor of Arts-80 hours
Bachelor of Science-55 hours
Bachelor of (Specialty)-40 hours

A statement from the department that major/minor requirements are/will be completed.
It is HIGHLY recommended that the student schedule a graduation check with the Registrar once they have reached senior standing (90 hours). This will allow the student to identify any courses needed for graduation prior to the semester they expect to graduate
Advising Specific Populations
Many students on the campus of SOSU are involved in activities or have special needs that impact advising. Below are some common issues with these students and resource and referral information.
Student-Athletes-With almost 250 student-athletes on our campus, this cohort makes up a significant percentage of the student population. Historically, student-athletes will have a higher retention and graduation rate than the general student population. When advising a student-athlete, it is important to explore with the student about practice times and when they are "in-season." This could impact sequencing and timing of courses. It is incumbent upon the student to know their athletic schedules. Student-athletes must also be aware of their eligibility requirements in terms of numbers of hours completed and the impact of dropping courses. If you have any questions or concerns, contact Associate Director for Compliance& Internal Operations Cherri Wilmoth (ext. 2690), or the student can check with their head coach.
Honors Program-SOSU has over 180 students participating in the Honors Program. In order to be considered an Honors Program graduate and to remain in good standing with the Honors Program, participants are required to complete designated classes at designated times. Different Honors Program Scholarships will require different amounts of hours to be completed each semester. It is incumbent upon the student to know these requirements. These courses may be above and beyond those required for general education or for the major. Honors Program students will periodically be asked to have their advisor provide an updated copy of their degree plan to make sure the scholarship funds are being used appropriately. Occasionally, a course required for the major will conflict with a required Honors Course. If this occurs, the student will need to address the issue with the Honors Program. If there are any questions concerning Honors Program students or their curriculum, please contact Dr. Margaret Cotter-Lynch (ext. 2770).
Disability-SOSU Director of Compliance & Safety provides a range of services for students with disabilities. As a faculty advisor it is important to explore with the student if there are any conditions (physical, emotional, or learning) that could possibly impact their academic performance. Accommodations for such conditions may include a note-taker, extended test-time, specialized tutoring, or any other service deemed reasonable. It is incumbent upon the student to initiate with Mike Davis. Each student who is registered for these services will need to meet with Mike Davis after academic advisement to ensure proper accommodations are provided. If you believe a student could qualify for such services or have any questions, please contact or have the student contact Mike Davis (ext. 3090).
Returning to SOSU-Many students will be returning to SOSU after a period of absence. If their previous course work is not on available the CampusConnect Transcript, the student can receive a hard copy from the Registrar. In general, courses at SOSU do not "expire", however there is university policy concerning degree completion for returning students. Due to the consequences of repeating courses, please check with the Registrar if you believe a student should re-take a course due to time elapsed (ext. 2165).
Research/Publishing Opportunities in Advising
As faculty search for new areas of research and publications, issues in academic advisement and student transitions provide an excellent avenue for contributions of knowledge to your field. Each of the following journals has recently published articles on issues or impact of academic advisement:
The Journal of the National Academic Advising Association (NACADA)
Journal of The First-Year Experience and Students in Transition
Journal of College Student Personnel
American Educational Research Journal
Journal of College Student Development
Journal of Higher Education
Journal of College Counseling
New Directions for Student Services
Journal of College Student Retention: Research, Theory and Practice
Research in Higher Education
Journal of Multicultural Counseling and Development.
Some recent titles include:
"Microskills: Advisor Behaviors that Improve Communication with Advisees"
"Advising Implications of Undergraduates' Motivation for Entering the Accounting Profession"
"Re-thinking Liberal Arts Skills in the New Economy"
"Learning about Students with General Education Development Diplomas on College Campuses: Implications for Academic Advisors"
"Academic Advising and Philosophy"
"If Advising is Teaching, What do Advisors Teach?"
"Increasing Advisor Effectiveness by Understanding Conflict and Conflict Resolution"
"Fostering the Critical Thinking of Women through Academic Advising and Faculty Contact"