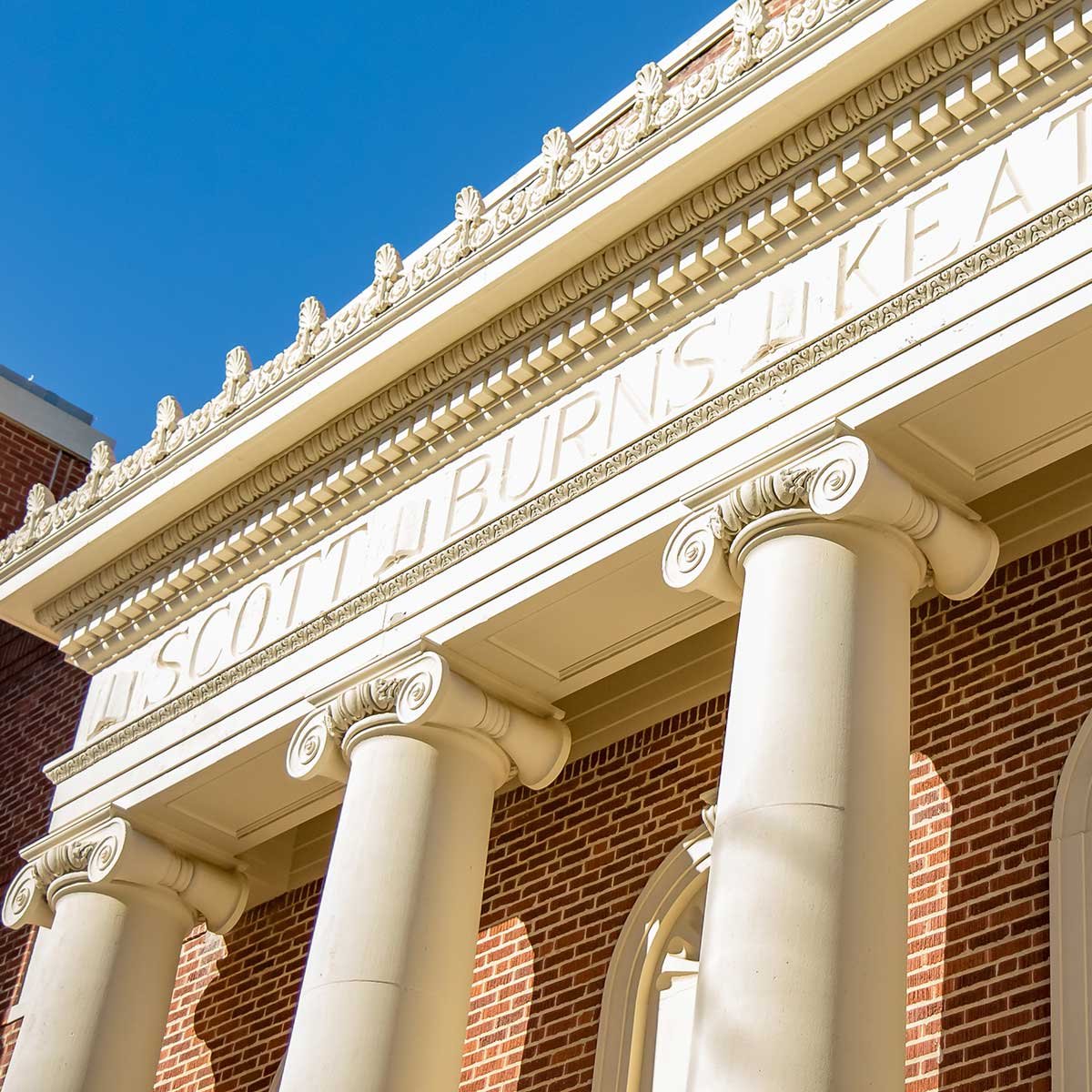 Office of the President
Sean Burrage was named President of Southeastern Oklahoma State University on May 15, 2014, by the Regional University System of Oklahoma Board of Regents. He began his duties on July 1, 2014.
A Durant native, Burrage, completed his second term as an Oklahoma State Senator (District 2) in May 2014. He did not seek a third term in office.
While an attorney by profession, the legal field, public service, and higher education have all played important roles in Burrage's life. He earned his Juris Doctorate Degree from the University of Oklahoma College of Law in 1993. In addition, he holds a bachelor's degree in accounting from OU. He is a product of the Antlers Public Schools.
Burrage was elected to the Oklahoma State Senate in 2006, representing District 2 (Mayes and Rogers counties). In November 2011, he was elected Democratic Floor Leader after serving as Assistant Democratic Leader for the 52nd Oklahoma Legislature.
He received numerous awards and honors while serving in the Legislature, including being named "Best Newcomer Legislator of the Year'' by the Higher Education Council, and "2013 Legislator of the Year'' by the Oklahoma Association for Justice.
Burrage served as Legislative Director to United States Senator David Boren in Washington, D.C., and later as Special Assistant and Director of State and Federal Relations to President Boren at the University of Oklahoma.
He has served as a board member of the University Hospitals Authority and Trust at the OU Medical Center. Active in his community, Burrage served on the Board of Directors for Tri-County CASA and as President of "Share the Spirit,'' a local charity that has assisted numerous families. He was named Tri-County CASA Attorney of the Year in 2001 in recognition of his pro bono representation of minor children in the juvenile court system.
In 2011, Burrage was a member of the Joint Committee on Indian Tribal-State Relations. He has also served as a Delegate to the American Council of Young Political Leaders and also designated as a member of the 2008 Class of Aspen-Rodel Fellowships in Public Leadership.
In addition to his standing committee assignments, Burrage was appointed as Minority Co-Vice Chairman of the Senate Redistricting Committee. He was also chosen to be a member of the Select Committee on Pensions.
The Southeastern president was appointed to the Governor's Education Advisory Committee in 2015, and the State Regents' Task Force on the Future of Higher Education in 2017. He also serves on the Oklahoma Ordinance Works Authority and the Oklahoma Board of Juvenile Affairs.
Burrage serves as Vice Chairman of the Legislative Affairs Committee of the Council of Presidents (Oklahoma). He is also Vice Chairman of Imagine Durant, member of the Durant Industrial Authority Board, and member of the Durant Economic Development Council.
Burrage is a member of The Choctaw Nation of Oklahoma.
He and his wife Carole have two sons, Truman and Carter.
University Vision
Southeastern will be a leader and innovator in higher education.
Strong academic and student life programs with a solid liberal arts and sciences foundation will characterize the University. Areas such as diversity, globalization, uniqueness, and cultural richness will be distinctive features of the institution.
Initiatives
Promote student enrichment experiences
Expand beyond our regional image
Optimize the learning environment
Enhance collaboration and partnerships
Five Strategic Goals
Academic Excellence
Southeastern will have validated academic programs, based on a strong liberal arts and sciences core, which meet the changing demands of the 21st century through the recruitment and retention of highly qualified, diverse faculty that stays current in their field through active scholarship.
Program validation will be through external accreditations, competitions, nation benchmarking, assessment, and other types of recognition.
The faculty, staff, and administration will work with the student body to enhance Southeastern's strengths of connectedness and familial relationships by emphasizing personal attention to the individual needs of all parties.
Academic excellence will facilitate the recruitment of a well-qualified student body and the acquisition of external resources.
Seventy five percent of all courses taught and credit hours produced within each school will be taught by full-time faculty.
Faculty, staff, administration and students will work to create an educational culture that supports civic engagement through community based problem solving.
Diversity and Cultural Competence
Southeastern will have established a nurturing environment and programming that attracts, actively recruits, and retains a university community of faculty, staff, and students with diverse national, ethnic, and racial backgrounds.
Facilities
Southeastern will have made major progress in developing a "state of the art" campus to meet the teaching/learning goals of the university.
Funding
Southeastern will double its resources from private funding sources, grants and contracts, and collaboration/partnerships with external constituents. Moreover, Southeastern's academic programs and their support areas will be the principal driving force for the allocation of resources to deliver all programs at a level which encourages national recognition.
Recruitment and Retention
Southeastern will increase its enrollment to 5000 by optimizing recruitment/retention strategies and by expanding its mission beyond its traditional service area through alternative delivery formats and new delivery sites.