Housing and Residence Life
Find Your Home at Southeastern.
Home to approximately 700 students, our Residence Halls are more than just a place to sleep and store your things. They are communities that provide an exciting living and learning environment. Our four residential facilities, including one apartment-style complex, meet the needs of everyone. From hall government to intramural sports and study sessions, there are many ways to get involved. Living on campus will help you to make lifelong friends and discover a variety of opportunities.
SE Housing & Residence Life
Email: housing@se.edu  | Phone: 580-745-2948
Virtual Office Hours: Mon-Thurs 10AM-12PM; 1PM-4PM
Zoom Now
The SE Housing Portal (in StarRez) is where you can:
Apply for Housing
Complete your Express Check-Out of Housing
Report a Maintenance Concern
Learn about upcoming HRL programs
Many additional things
Follow us on Facebook and Twitter
The Spring 2022 Only Housing Application is now available. Use the SE Housing Portal (in StarRez) to apply for housing.
Spring 2022 Check-In Schedule is Set!! Click here to see when you can move in.
Residential Living & Learning Communities are designated. Check here to pick the community (& location) you want and/or are eligible for.
Spring Room assignments are made manually by Housing & Residence Life staff, as time permits. You may not receive a room assignment letter but should be able to see assignments on your home page in the Housing Portal, once they are made.
Join us in the HRL Virtual Office during regular business hours, if you have any questions.
---

SPRING 2022 CHECK-IN SCHEDULE
RETURNING RESIDENTS, who lived on campus during the fall 2021 semester, may check-in be using the Housing Portal any time after 10am on Thursday, 1/6/22. Returning residents are free to return to campus after they have checked back in on the Housing Portal.
NEW RESIDENTS, who submitted a Spring-Only Housing Contract must check-in by coming to the SE Housing & Residence Life Office, Rm 311 in the G. D. J. Student Union between 1:30-4:30pm on Thursday, 1/6/21 & Friday, 1/7/22. The office is not open to conduct check-ins after this time or on weekends. If you cannot arrive during these times, please plan to check in between 2-4pm starting Monday, 1/10/22 through Wednesday, 1/12/22. If you cannot arrive to check in by this time, please contact us for special directions.
The Department of Residence Life creates a living environment that supports student learning, fosters personal growth and development, and encourages the development of personal integrity and civic responsibility. We effectively manage well-maintained and reasonably priced residential facilities. We value the individuality of each student and the diversity reflected within our community.
Residential programs will develop residential communities in which all members feel valued and safe.
Residential programs will enhance the personal growth and development of resident students.
Residential programs will support the academic mission of the university.
Residential programs will encourage active citizenship and civic responsibility.
The Department of Residence Life will provide clean, well maintained and reasonably priced residential facilities will meet the ever-changing needs of students.
The Department of Residence Life will utilize administrative policies, procedures & processes that ensure the orderly and effective administration and operation of all aspects of the program.
Well trained and qualified staff will be a foundation of the residential program.
The Residence Life Department and personnel will maintain a commitment to advocating for the individual needs of each resident student as well as the collective needs and concerns of the residential community.
Due to COVID-19 related campus closures, the Housing & Residence Life Department will only be holding virtual office hours.
Virtual Office Hours:
Monday-Thursday 10:00 am – 12:00 pm & 1:00 pm – 4:00 pm & 5:00 pm – 8:00 pm
If you would like to speak to a Housing employee please join us via Zoom, click HERE
Helpful Contact Numbers
Main Office (during regular office hours): 580-745-2948
After Hours Emergencies/Campus Police: 580-745-2727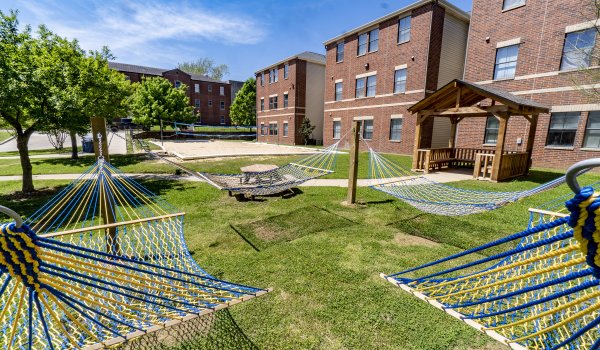 Apply for Housing
Ready to apply for housing? Submit your application to be one step closer to living on campus!
Apply Now