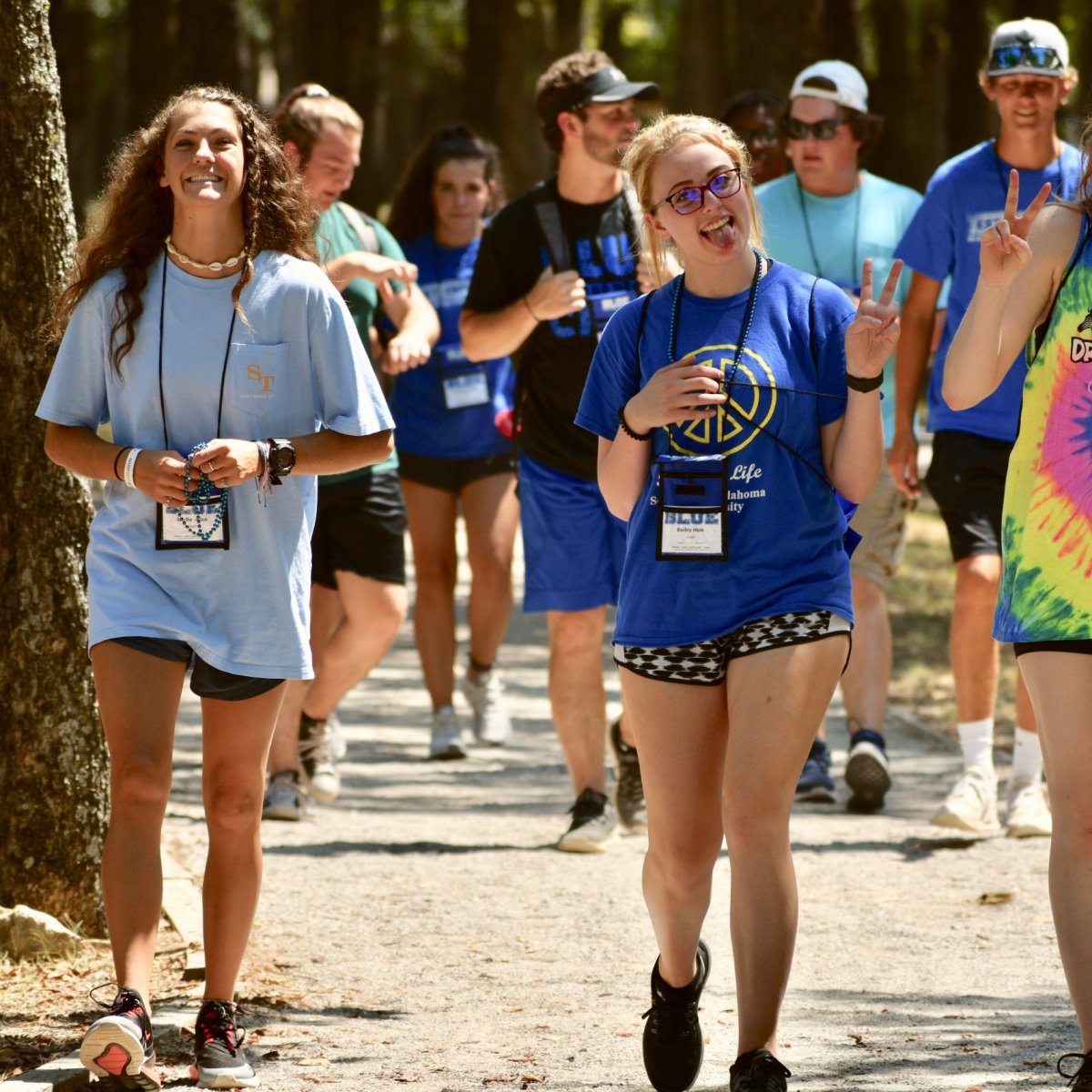 The Big BLUE Experience
This year's Big BLUE Experience is combining with Camp SE for one over-the-top New Student Orientation event!
The Big BLUE Experience is August 13 – 15, 2021.
The Big BLUE Experience is not just a summer orientation camp. It's the beginning of a relationship between new students and Southeastern Oklahoma State University. While the Big BLUE Experience is a great way for students to learn the ins-and-outs of life at SE, our primary goal is that every camper leaves the Big BLUE Experience feeling they have been connected with a vital support system to help them succeed.
So what is it that makes camp so beneficial? Our camp activities are designed to teach students about academic expectations, life at SE, SE's history and traditions, how to get involved, and many other things to help ease their transition to SE. That stuff is important, but what students talk most about is all the people they've met at camp. They not only know important information that will help them succeed, but they know that they've got a support system in place that they can turn to whenever transitions get tough. And that's why the Big BLUE Experience can be an asset to everybody.
Students will be charged a $30 non-refundable registration fee to attend New Student Orientation.
Registration Deadline: August 6, 2021
---
8:00am to 5:00pm
Get it Done! Do you have a list of things to do and need help getting them done? Check in at the Office of Student Life and we will help you! [GDJ Student Union 305]
Campus Safety: Get your Student ID and Parking Permit [Campus Police Department]
Get Your Books and SE Gear [SE Bookstore]
2:00pm to 5:00pm
GOLD Orientation / Safe Schools Training [Russell 317B]
12:00pm Camp SE Check In [GDJ Student Union Gym]
1:00pm Opening Session [Amphitheater]
1:30pm to 3:00pm Breakout Sessions – Financial Aid, Business Office, Student Employment, Career Management Center, Student Wellness, Campus Safety [Ballroom/Magnolia Room]
3:00pm Faculty Friends [Ballroom/Magnolia Room]
3:30pm Class of 2025 Photo [Front Steps of Morrison Hall]
4:00pm Freshmen Convocation [Montgomery Auditorium]
4:30pm Dinner on the Lawn [Front Lawn]
11:00am Choice Sessions – Green Dot Bystander Intervention, Personal Health Plan, Goal Setting, Positive Psychology for a Positive First Year [GJD Student Union]
12:00pm Brunch with your Team in the Cafe [GJD Student Union Cafe]
1:00pm Info Exchange [GJD Student Union Atrium]
1:30pm Playfair [Bloomer Sullivan Arena]
3:00pm Residence Hall Meetings [GJD Student Union Gym]
4:00pm Big BLUE Fun! [Front Lawn]
12:00pm Water Wars – Water slides and FUN! [Front Lawn]
6:00pm Sundaes on Sunday – Come as a team and enjoy FREE ice cream sundaes [GDJ Student Union Atrium]
Big BLUE Experience Tips
1. Check your SE email – All emails regarding the Big BLUE Experience will be sent to the student's SE email account.
2. Let us know if you have any questions – If you have any questions about the Big BLUE Experience, please contact the Office of Student Life at 580-745-2266 or studentlife@se.edu.
3. Registration Fee must be paid ahead of time. The $30 New Student Orientation Registration fee must be paid at the time of your registration.
4. Registration Fee includes: Snacks, Class of 2025 t-shirt, Big BLUE Swag, and. Entertainment.