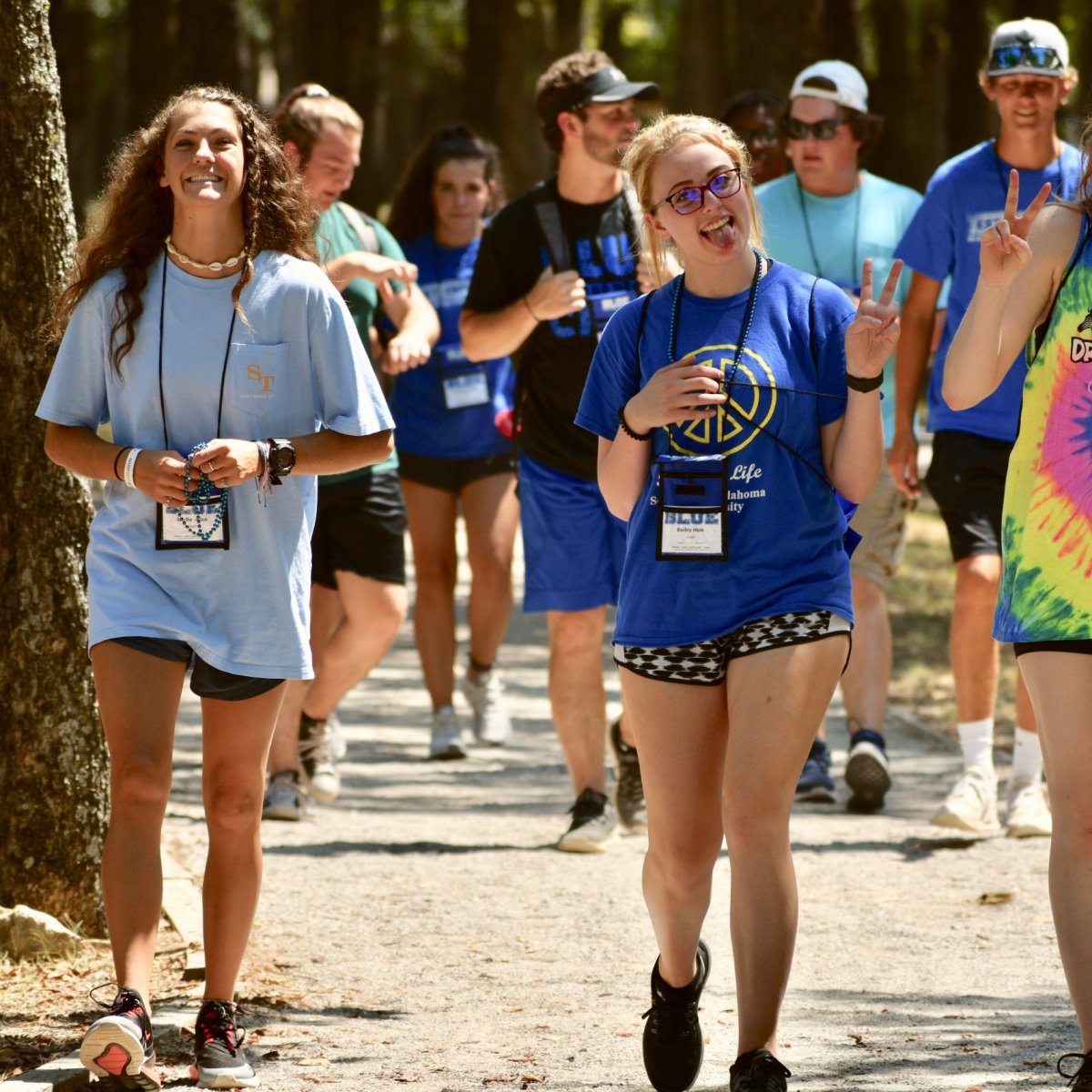 The Big BLUE Experience
The Big BLUE Experience is not just a summer orientation camp. It's the beginning of a relationship between new students and Southeastern Oklahoma State University. While the Big BLUE Experience is a great way for students to learn the ins-and-outs of life at SE, our primary goal is that every camper leaves the Big BLUE Experience feeling they have been connected with a vital support system to help them succeed.
This year's Big BLUE Experience is

July 22-30, 2020

.
So what is it that makes camp so beneficial? Our camp activities are designed to teach students about academic expectations, life at SE, SE's history and traditions, how to get involved, and many other things to help ease their transition to SE. That stuff is important, but what students talk most about is all the people they've met at camp. They not only know important information that will help them succeed, but they know that they've got a support system in place that they can turn to whenever transitions get tough. And that's why the Big BLUE Experience can be an asset to everybody.
No Registration Required!

---
Schedule of Events
Wednesday, July 22
Thursday, July 23
Friday, July 24
Saturday, July 25
10:00 AM – Morning Announcements
11:00 AM – Yoga Time
2:00 PM – Life on Campus
6:00 PM – TikTok Dance Battle
Monday, July 27
10:00 AM – Morning Announcements
1:00 PM – Learn the Fight Song
3:00 PM – Learn a Dance with the Sparks
Tuesday, July 28
10:00 AM – Morning Announcements
12:00 PM – Chat N' Chew with Savage Storm Leaders – https://zoom.us/j/97627095369 [Meeting ID: 976 2709 5369]
3:00 PM – All About Wellness
Wednesday, July 29
10:00 AM – Morning Announcements
1:00 PM – LEAD Talk
4:00 PM – Make Some Noise Video with SE Cheer
6:00 PM – Learn about the Greeks!
7:00 PM – Chat with some Savage Storm Leaders – https://zoom.us/j/93655348262 [Meeting ID: 936 5534 8262]
Thursday, July 30
10:00 AM – Morning Announcements
1:00 PM – Learn About Consent
Friday, July 31
10:00 AM – Morning Announcements
2:00 PM – Kick Start Your Life
5:00 PM – Thank You from your Savage Storm Leaders
6:00 PM – Alma Mater