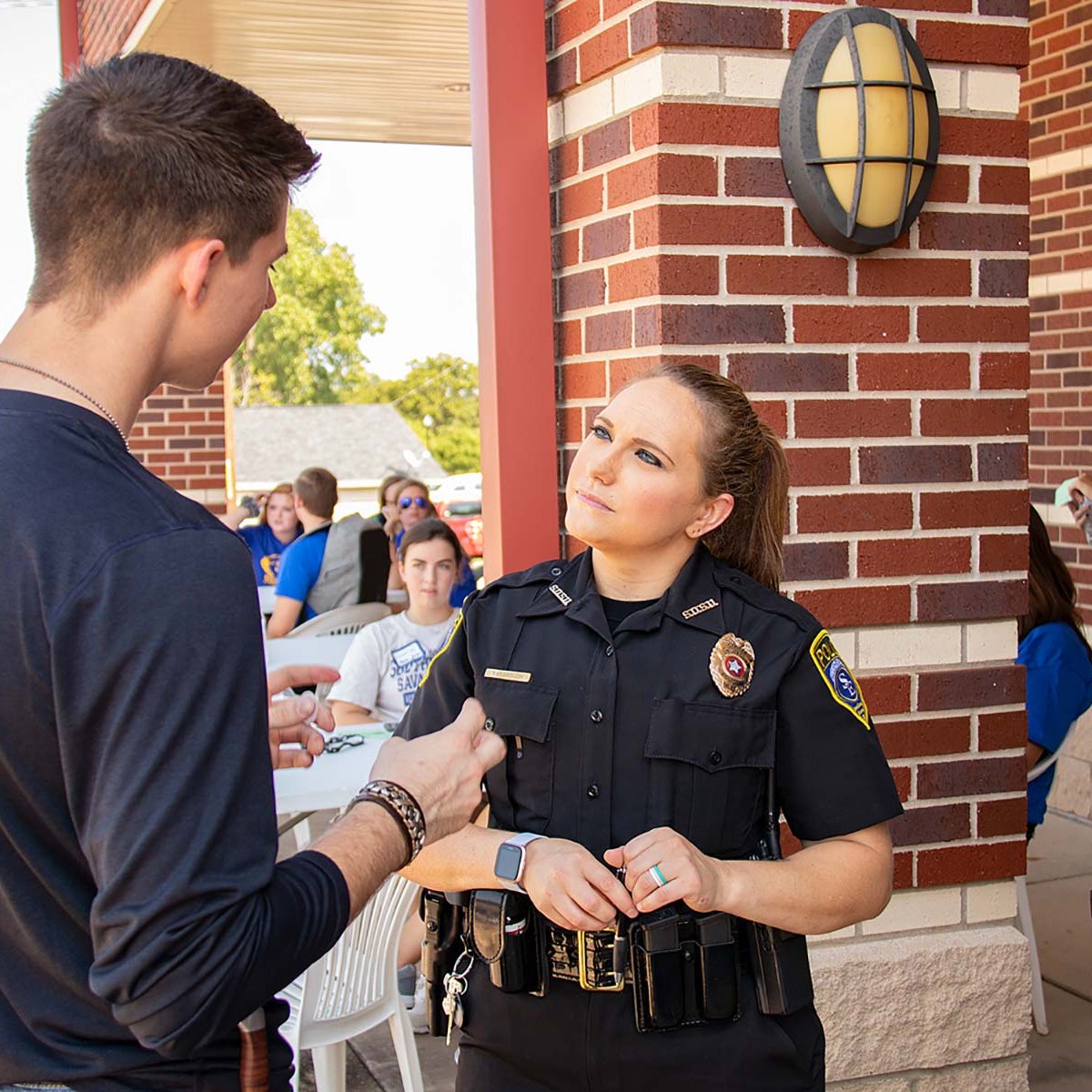 Campus Police
Contacting Campus Police
Phone: 580.745.2727
Campus Extension: Dial 2727
On-Campus emergency: 2911 or 911
Police call boxes are located strategically across campus.
Storm Shelters are also located in several areas across campus. View Map
Campus Police Office is open 24 hours a day, 7 days a week and is located at the corner of 3rd & University.
Our Mission
The purpose of the Campus Police Department is to provide a safe environment for the University community, to protect life and property, to investigate crimes and accidents, and to furnish information and assistance as needed to support and promote the institutional programs. This mission is accomplished through the following objectives:
Maintaining protective patrols to deter and detect crime, to detect fire and safety hazards, and to prevent traffic accidents and congestion.
Establishing and maintaining effective crime prevention programs.
Encouraging and enforcing safe parking practices on campus property.
Enforcing University regulations, local and state laws.
Maintaining adequate and accurate registration of motor vehicles in use by members of the University community.
Operating and maintaining University vehicles for use in support of institutional missions.
Responding quickly to distress and emergency situations on campus property, or involving University students or personnel in other locations.
Cooperating with local and state law enforcement officials in investigation ad disposition of crimes or accidents involving University students, personnel, or property.
The Southeastern Oklahoma State University Police Department is available 24 hours a day, 365 days a year. We are present on the Campus for you safety and protection. We pride ourselves on our ability to respond to your need, from assisting when you lock your keys in your car to responding to a criminal offense. If you ever ask yourself the question, "should I call the police?"; You should call and allow us to assist you.
Our goal is to provide each of you with a safe and secure campus. We honestly want everyone to enjoy their college experience, and desire that you feel secure enough to take advantage of all that college life has to offer. Therefore, if you are not participating in activities or avoiding places, persons, or situations on campus, you are not taking full advantage of your collegiate experience. It is this department's mission to ensure that each of you feel as safe on campus as you do at home. Call us if you find yourself avoiding any campus activities. We will work hard to make this campus accessible and safe for everyone.