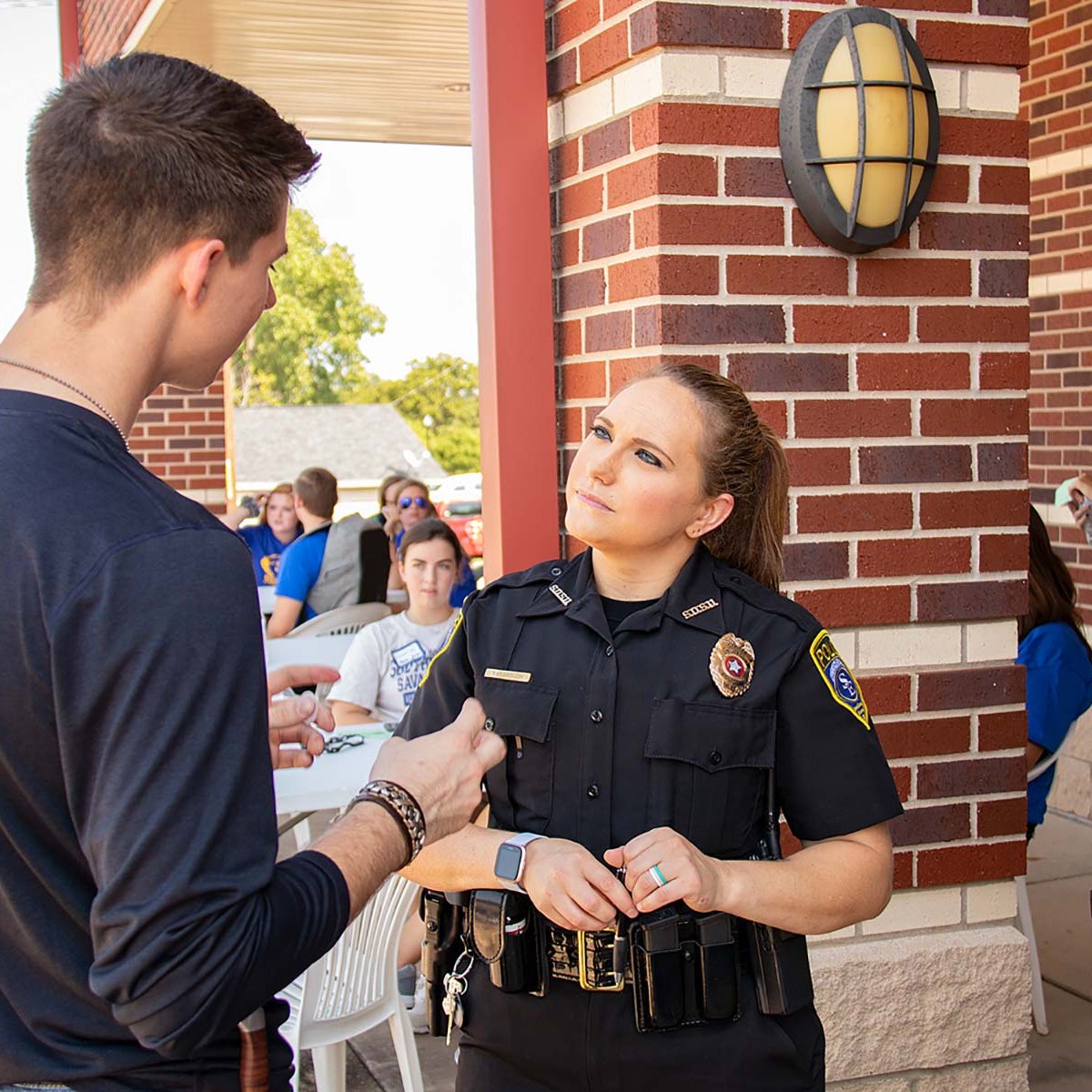 Safety Tips
Common sense rules and techniques.
Many crimes can be prevented if you:
Trust Your Instincts
If you suspect something is wrong or a situation seems dangerous, you may be right! Don't dismiss suspicious people, cars, or situations. Report them to the Campus Police immediately. 745-2727
Avoid Dangerous Situations
Don't invite trouble. Use your best judgment about where you go and what you do.
Work with Campus Police
Students and Campus Officials working together will help make our campus safer.
Protect Yourself in Campus Housing
Lights — leave at least one on.
Be aware of your surroundings.
Be sure to lock your doors.
Don't open the door unless you know who it is, utilize a peep hole.
If a repair person shows up at your door, check with the manager before opening the door.
Unwanted Calls
Don't give out personal information such as your name or address. If you have an answering machine, use it to screen unwanted calls. Notify the Campus Police of any threatening or harassing calls, make note of the time and date or if the caller sounds familiar or is someone you know.
Strangers
Don't open your door for people you don't know. If you feel threatened, please contact the Campus Police for assistance.
Neighborhood Watch
Watch the doors of your neighbors. If you see something suspicious, contact the Campus Police.
Elevators
Get on with a group if possible.
Stand away from the door while waiting alone.
Don't ride an elevator alone with a stranger.
If you're uncomfortable with a stranger, get off immediately.
Stand near the control panel and hit the alarm button if necessary.
Intruders
If you think someone is inside your home, Don't go in! Call the Campus Police from a nearby phone.
Protecting Yourself In Your Community
Walk with someone you trust.
Stay alert to those around you.
If you must walk alone, walk confidently.
Go in a public place if you need to ask directions.
Walk near people.
Avoid isolated areas, parks, and parking lots.
Shortcuts may save you time, but they may also expose you to danger.
Protect Your Valuables
Carry only what you need with you.
Carry necessary valuables close to your body. Don't put them down.
Carry a wallet in a front or inside pocket, instead of a purse.
If you carry a purse, hold it close to your body.
Never leave your purse or wallet inside your vehicle, keep it with you or leave in a secure place.
Being Followed
Act suspicious.
Turn to look at the person. This gives you time to plan your strategy. It also lets the person know you won't be taken by surprise.
Change directions.
Go in to a public place or an occupied campus building.
Call someone to walk with you or check on you when you reach your destination.
Protecting Your Vehicle
Roll your windows up when vehicle is unoccupied.
Keep your doors locked when vehicle is unoccupied.
Never leave your vehicle running and unattended.
Keep all valuables locked in a safe place, not in your vehicle.
Call Campus Police…
If you or someone else is involved in a motor vehicle accident on campus.
If you ever feel that someone has touched you in a way that was inappropriate.
If you or someone you know ever feels they have been taken advantage of sexually. We will strive to protect your confidentiality, and will be as sensitive as possible. We will take your accusations very seriously and treat you with dignity.
If you are ever frightened and don't feel comfortable walking to your car, the library, etc. Call us and we will be happy to walk with you.
If you see anyone suspicious on campus, trust your gut instincts and call the Campus Police. If it turns out to be nothing, there is absolutely no harm done, BUT your phone call could prevent a criminal offense from occurring.
If you receive unwanted or harassing phone calls.
If you ever hear an argument in a dorm room or in any other campus building, call the campus police, you could prevent a battery.
If you or a friend ever feel threatened by someone, and feel that they could potentially do you harm.
If your vehicle is ever burglarized.
If your dorm room is ever burglarized.
If you ever suspect that any of your property has been stolen.
If you suspect drug activity on campus. (You can remain completely anonymous).
If you or anyone you have contact with begins to feel despondent or morbidly depressed, call the Campus Police and allow us to check on an individuals welfare.