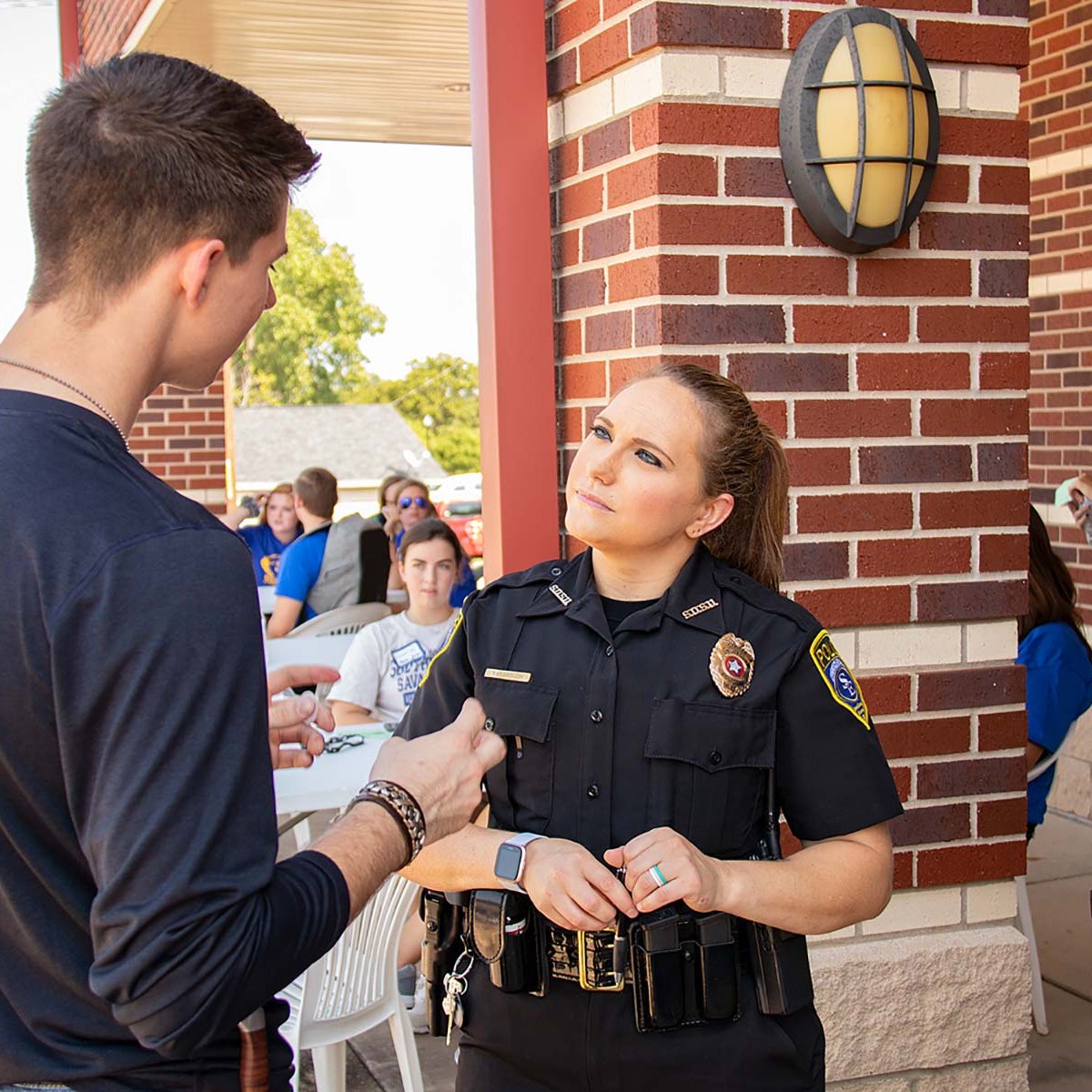 Traffic and Parking
Parking Permit Information
Every person operating a vehicle on the campus of SOSU must obtain and display a current parking permit on their vehicle. These permits are to be displayed on the rear bumper or on the back glass of the vehicle. The permits are good for one (1) year and expire on the last day of August.
To receive a parking permit, students are required to bring proof of enrollment, car registration and/or valid car insurance verification, vehicle tag number of the vehicle to be registered and a photo ID to the Campus Police Department. There is no charge for these permits. Proof of enrollment is your schedule for the current semester, bill for current semester or updated ID card.You cannot receive a parking permit without your tag number, car registration/valid car insurance, photo ID and proof of enrollment.
If you do not have your tag number at the time you enroll, (example: you just purchased the vehicle and still have temporary tag), you must wait until you have the official metal tag to receive a decal.
Not receiving a parking permit will not exempt you from responsibility for traffic or parking violations. Campus Police can identify the owner by tracing the tag number through the Department of Public Safety.
Permit holders are responsible for all charges made against their vehicle, regardless of the driver at the time of the offense.
Being unable to find a designated parking spot or parking incorrectly because someone else is improperly parked is NOT justification for improper parking.
Cars parked in FIRE ZONES and HANDICAPPED ZONES will receive a ticket and possibly be towed away at the owners expense.
Parking Violations
Parking in Fire Lanes
Parking on sidewalks & on grass
Parked facing the wrong direction (or backing into a space)
Parking in Yellow Zones and unmarked spaces
Parking in spaces designated for Visitor Parking
Parking in such a manner to interfere with the normal flow of traffic
Parking Violation Fines
Illegal Parking in Fire Zone (Red Zone)
$75.00
Illegal Parking in Handicapped Zone
$75.00
Illegal Visitor Parking
$20.00
No Parking Permit (No Decal on Automobile)
$20.00
General Parking Violations
$20.00
Moving Violations
$20.00
These rules are for your safety and will be strictly enforced. For the convenience of all those that park on the Southeastern campus, please make a special effort to be aware of how you are parking.
Paying for Parking Tickets
To settle your ticket in person, complete the top portion of the ticket and sign the signature line. Present the ticket for payment at the Business Office (A101) during regular business days and hours.
By mail, return the completed ticket with a check or money order in an envelope to:
Southeastern Oklahoma State University
Business Office
425 W. University Blvd
Durant, OK 74701-0000
You may appeal a parking citation through the Parking Appeals Process within 14 calendar days of the citation issue date (no citations are appealable beyond this time frame). The appeal will be reviewed by the Southeastern Parking Appeals Committee. The Committee will evaluate each appeal and its decision will be returned to the Students Southeastern email address. Decisions are final and not subject to further review. Complete the Traffic Appeals Form below.
Student Ticket Appeal